Hello PowerBI experts, hope you all are well and safe!
I am stuck with fixing an issue with cumulative totals, and any guidance would be great! I have matrix showing cumulative totals for each month by day. The issue here is that after the max cumulative total is reach for each month, the matrix continues to show this value for subsequent days but I would rather have these records blank to indicate no activity. The matrix I have is as follows: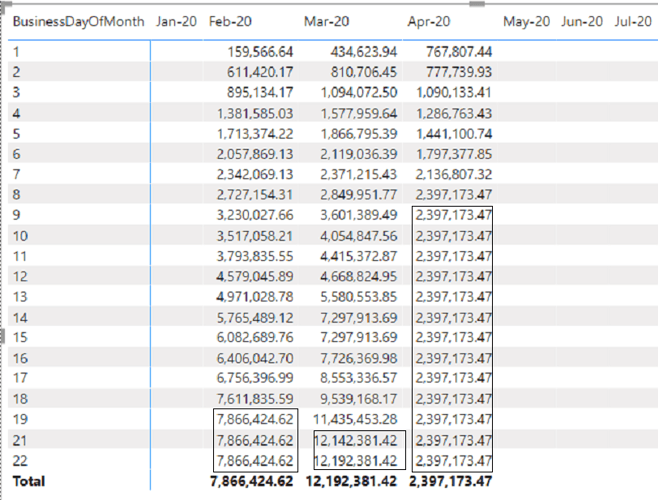 The DAX query for each month is very similar, only difference is the month name. The DAX measure for April is as follows:
Apr-20 =
CALCULATE
(
SUM(RemittanceData[TRANSACTIONAMOUNT])
,FILTER
(
ALLSELECTED(RemittanceData)
,RemittanceData[BusinessDayOfMonth] <= MAX(RemittanceData[BusinessDayOfMonth])
&& RemittanceData[ReportMonthFormat] = "APR-20"
)
)
What modifications to the DAX query can I make to return no values for days the cumulative total didn't increase? I looked at multiple places for a solution, but I didn't find anything really I could use to modify my DAX query. Please let me know if my question needs any clarification. Any help would be highly appreciated, thank you very much!