Hi everyone,
please I need help for a topic regarding forecasting of production data.
Here is my idea how I will try to implement it into power bi.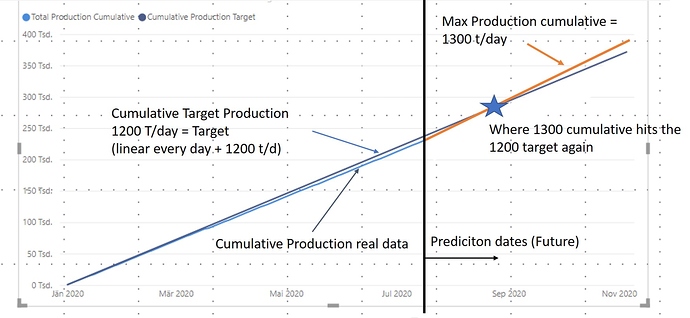 In the following picture you can see cumulative production dates, where the real production values are smaller than the target production which is defined by 1200 tons/day.
The black vertical line shows the actual day.
From this moment on (prediction until end of year) I want to predict a new line (organe) which is the possible maximum production of 1300 tons/day (should start at the last real cummulative production data and then in future every day +1300 tons/day).
So I want to know the point where the 1300 tons/day line hits the original 1200 tons/day target production line again an how many days are needed to hit again.
The 1300 (max production line) should start at the last real cumulative production data( starting point ~ 220.000 tons cumulative).
I have tried the whole day but I really have no idea how to implement this in my model.
Thank's a lot!
Best regards Lukas