Hi All,
I'm new here and pretty new to Power BI - I've been using it since May for work. I'm looking to build a flag column to use as a filter (at least I think this is the easiest solution). Based on the below image, I want to exclude Tom Jones' hours from the table visual as I only want to show employees who have had union time during the last month and for those employees, I want to display ALL of their hours. To add probably a level of difficulty, I want this flag to work regardless of the fields I bring into the table visual.
I've attached a very basic example of the the data I'm working with and an image of what I'm trying to accomplish.
Whether this is a calculated column or a conditional column built in the Query Editor doesn't matter to me. I just need to exclude people from the table visual who have no union time during the period set in the page filter.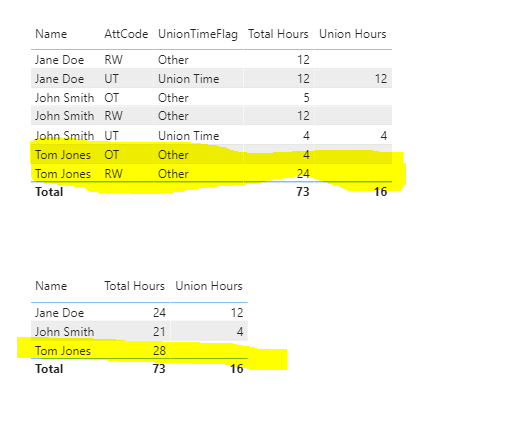 Example.pbix (269.4 KB)
Thank you!
Michelle