Hello DNA Community,
What I'm trying to do is to calculate the % of Costs (by categorie, Salaries, Marketing,…) of Net Sales inside a Matrix by the different markets we have. See Excel attach.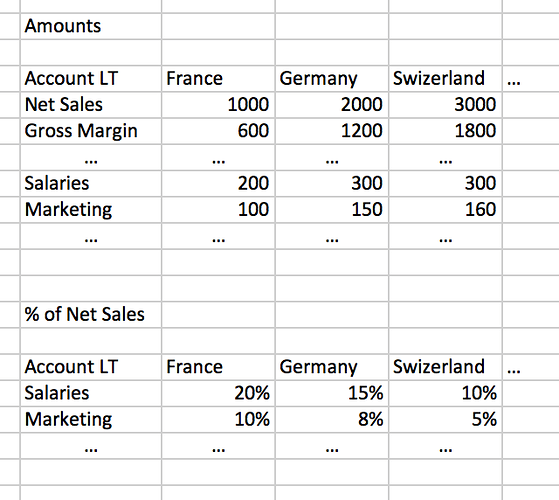 The model to help understand the calculations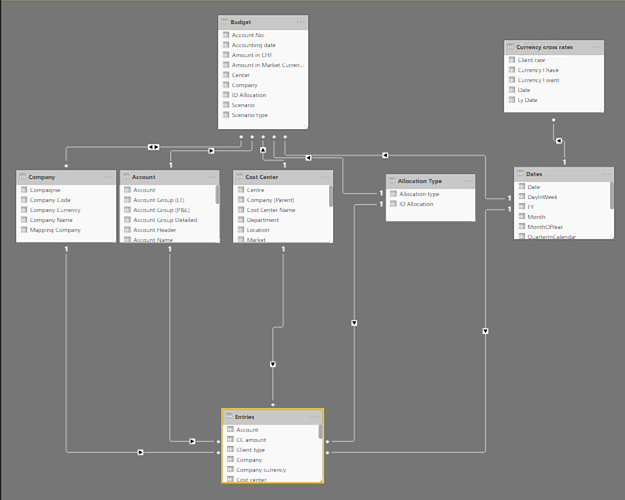 1st: Net Sales is a calculation I have to do using the "account table" that provides me all the necessary informations to do this. Gross Sales(Accounts LT column) - Discounts (Accounts LT column) = Net sales
2nd: I have to do divide the Expenses buy the Net Sales to get the % of expenses by Category (Salaries, Marketing,…) comapring to Net Sales.
The issue I m facing is that since Net sales is calculated using filters from the account table, when I want to display my formula saying Actuals/ Net Sales = % costtoNetSales it uses the initial filter placed to calculate NetSales, But in a context of Marketing expenses, salaries,… I get no NetSales (since its beeing filtered by Salaries, marketing,…) and in a context of Net sales I get no Marketing expenses (since the same table is beeing filtered this time by GrosseSales - Discounts).
Do you know if there is a way to FIX this Net Sales Measure so it won't be affected buy a any given context?
Thanks for you help
Regards
Mark