My company uses a variation of 4-4-5 calendar. We refer to them as "Periods" instead of months. For example we have P1 to P12 with a P13 for year-end adjustments.
I want to create a Period offset column in my calendar table.
For a Day Offset, I normally just put in a "Today" column with the current date (DateTime.LocalNow()) and then calculate the offset with the formula [Date]-[Today].
However, I'm not sure how to create the offset for the periods.
Below is an example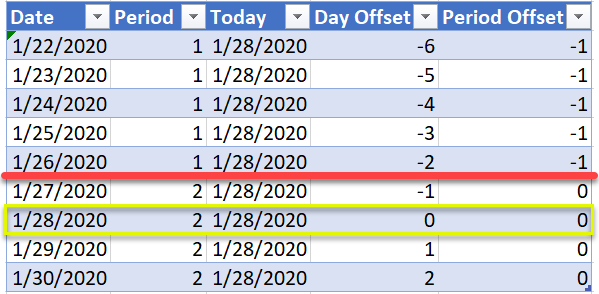 In the example P1 ends on 1/26. The current day is 1/28. You can see how the Period offset should be calculated, but I don't know how to do it in M-Code.
I'm hoping if I get this to work, I can build a nice Calendar table that I can reuse in all my models that will have the time offsets built in.
Thanks,