I have a Working Hours table with a Date column containing the first day of the month and a column with the Working Hours reported for each month.
I need to create a measure that returns a value only for the current month (in this case the date on my table would be 01/05/2023), but this value needs to be the working hours reported for the previous month (01/04/2023). That is, I want only a value for May 2023 and this value should be the working hours for April 2023.
Here is an example of what the measure (right hand column) would look like when on a table: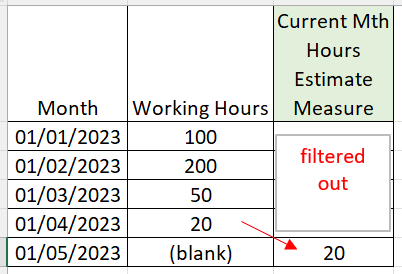 Working Hours Example.pbix (36.5 KB)
So far, I have managed to create a measure that returns the value for the same period last month:
Same period last month = CALCULATE([Total Hours], DATEADD(Working_Hours[MonthDate], -1, MONTH))
But I have not managed to filter the table so it returns a value for the month of May based on the hours for the month of April, as when filtering April out, obviously, April's data disappears.
Please help!