Welcome to Excel Workout #7!
Difficulty Level:


This week's challenge is designed to test your knowledge on Conditional Formatting.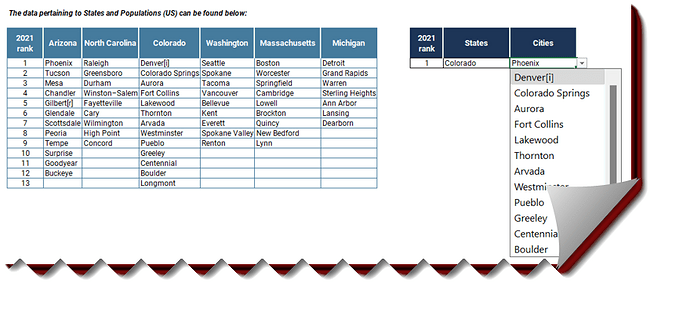 Conditional Formatting
Conditional Formatting in Excel is a feature that allows users to format cells based on specific conditions or criteria. It is a powerful tool that helps to highlight important data or identify patterns in large data sets.
With conditional formatting, users can apply different formatting styles to cells based on the value of the cell, the content of the cell, or the comparison of the cell value to other cells. For example, a user can apply a specific color to cells that contain values greater than a certain number or apply a different color to cells that contain specific text.
Goals
Please follow the directions given below, which include downloading the Excel worksheet required to perform the challenge tasks. Once you have completed the download, proceed to take the challenge and test your skills.
Task
State names located in the Y4:AD4 range can be selected from the Drop-Down menu in AG5 Cell.
Let's choose Arizona from cell AG5.
Cities belonging to the State of Arizona in cell AH5 will be listed in the drop-down list.
Let's pick the city of Phoenix.
Again, let's select the State of Colorado from cell AG5.
The city of Phoenix is still visible in cell AH5 whereas, the city of Phoenix belongs to the Arizona State.
When we click the drop-down button in cell AH5, we only know the Colorado state cities by sight.
The question is:
When we change the States in cell AG5, how can we ensure that the value in cell AH5 is blank until the new city is selected?
Submission
Reply to this post with your formula code and solution file. Please be sure to blur or hide your formula code.
Period
This workout will be released on Monday April 17, 2023 , and the author's solution will be posted on Sunday April 23, 2023 .
Challenge #7.xlsx (8.3 MB)
Good luck,
Ilgar Zarbaliyev