Welcome to Excel Workout #26!
Difficulty Level:


This week's Challenge is designed to test your knowledge on Histogram Chart.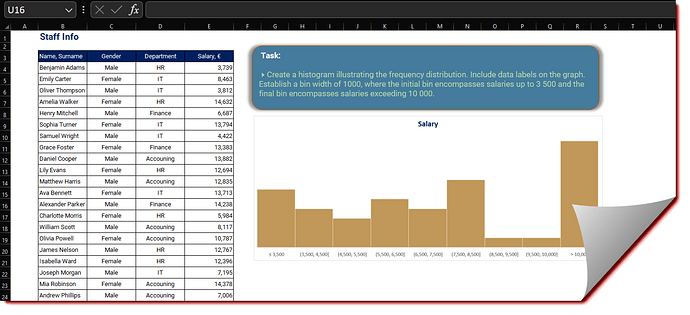 HISTOGRAM Chart
A histogram chart in Excel is a graphical representation of data that displays the distribution of a continuous variable. It is commonly used to analyze and visualize the frequency distribution of data points within specified ranges or bins.
Task
Create a histogram illustrating the frequency distribution. Include data labels on the graph. Establish a bin width of 1000, where the initial bin encompasses salaries up to 3 500 and the final bin encompasses salaries exceeding 10 000.
Submission
Reply to this post with your formula code and solution file. Please be sure to blur or hide your formula code.
Period
This workout will be released on Thursday June 22, 2023 , and the author's solution will be posted on Thursday June 29, 2023.
Challenge 26.xlsx (8.4 MB)
Good luck,
Ilgar Zarbaliyev