— CAN YOU SOLVE THIS - EXCEL CHALLENGE 188 —
(Solutions in any language are also welcome for Excel Challenges)
Sort Col 1 through 5 column wise on the basis of frequency.
Higher frequency will be sorted first.
In case of equal frequency, larger number will be sorted first.
Frequency = Occurrence
Taking first column as example
1 appears 3 times, 8 appears 2 times, 4 appears once and 5 appears once.
Sorting has to be done on the basis of this frequency.
Hence sorting would be 1 (freq = 3), 8 (freq=2), 5 and 4 (in case of tie, larger number comes first)
Post answers in Comment.
(Your formula need not be a single formula. You can write multiple formulas to arrive at a solution. Also your formula need not be different from others as long as you have worked out your formula independently)
Download Practice File - https://lnkd.in/dJZf_Btr
#excel, #excelchallenge, #powerquerychallenge, #daxchallenge, #m, #dax, #powerbi, #powerquery, #powerpivot, #sheets, #googlesheets, #data, #analytics, #businessintelligence, #finance, #office365, #python, #r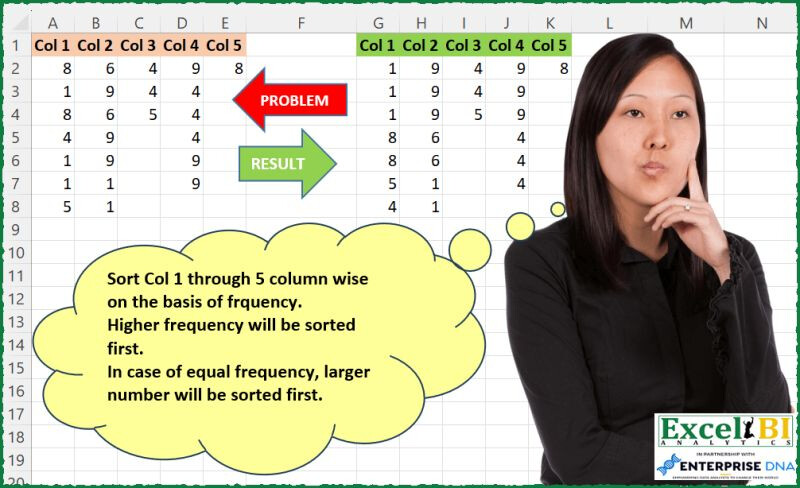 Excel BI LinkedIn Post