Hi all,
I am trying to use One card to display value based on two different Slicers selections. I am trying to get my head around the logic.
Here is a mock up of what I want to accomplish.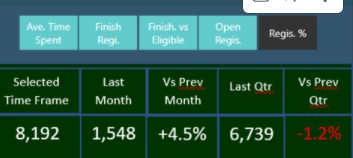 Lets say I have
Ave. Time Spent, Finish Regis, Finish vs … etc. as Table 1 as slicer
and
Selected Time Frame, last month…etc. as Table two as a slicer
I wanna be able for example to select Ave. Time Spent from slicer 1 and Selected time frame from slicer two
and show the value based on the two selection.
Any suggestions of how to have that?
I appreciate all the help.