Hello,
I am trying to write a measure that will allow me to count how many customers purchased items at what time of the day. For example how many customers bought something between 9:00 AM and 10:00 AM.
I have a column in my table that has just times purchased: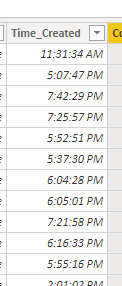 I am also trying to understand trends on different days. So I have a date calendar I have linked to the table as well.
I thought about using the switch function but I am not having much luck with it.
Could anyone help?