Hi there!
I've gone thru several threads related to currency but I haven't seen anything similar to what I'm seeking for - which is I hope way easier than other business issues.
We just have USD currency (different FX rates) and Local Currency. So just 2 options, as depicted below: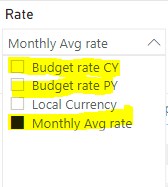 The ones highlighted in yellow are USD, for which I want all my measures to display $ notation sign.
Here one calculation:


Is there any formatting I could apply straight in this code without the need to afterwards format it as Currency, which would lead me to use the $ sign?
Big thanks