Hi All,
I am running a reconciliation exercise between two databases in Power BI. I have chosen direct query mode due to the large volume of data. Below is a simplified model for demonstration, where both databases (Table 1 & 2) have:
Date & ID columns. ID Column does have blanks.
The active relationship is between the Date column, and the inactive one is between ID's.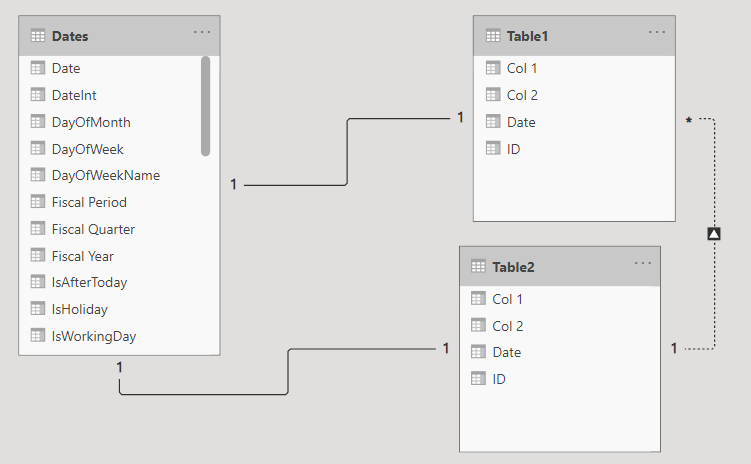 My ask is for matching the tables by "ID" to show "Matched" & "Mismatched" via direct query. I think there are two options to do that:
Custom SQL to perform that on the server (I would like to see one table with all records from table 1 & 2 & new matching/mismatch column)
Using DAX
I would like to use the 2nd option, DAX. Tried already but not all functions would work with Directquery mode.
Here is my attempt but via Import Mode, which works:
Matching Records :=
VAR _matchinginT2 = LOOKUPVALUE(table1[id],table1[id],table2[id])
Return
IF(NOT(ISBLANK(_matchinginT2)),"Matched","Mismatched")

Unfortunately, the LOOKUPVALUE does not work in direct query.
Any input is highly appreciated.
Thanks