Hi there,
I want to be able to default a value in single select drop down every time a page is being loaded (1st time-load). I went through old postings and there are some workarounds suggested, however they don't work for my scenario.
Use Case:
Default the selection to be the "last shift available" every time user loads the report (1st time-load of the report)
E.g.
Shift available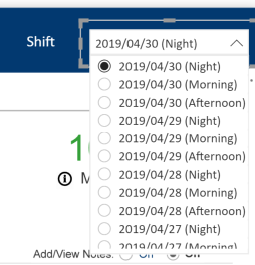 User A - launched the report and drop down will auto-select last shift available - "2019/04/30 (Night)". User selected diff shift = "2019/04/28 (Morning)" … then closed the browser/report
10 mins later , User A re-launched the same report, and the drop down will auto-select shift "2019/04/30 (Night)".
If data refresh happened where there is a new last shift available in the dataset, I would like the report to auto-select the last shift as well.
thanks