I'm working on a report where the user wants to see the No of days to the payment received of an invoice in the current month. For that, I created a measure to calculate the days to payment something like this:
Avg Days to Payment =
VAR PymtDate = SELECTEDVALUE(InvoiceTable[PaymentDate])
Return
AVERAGEX(InvoiceTable, DATEDIFF(
MIN(InvoiceTable[InvoiceDate]),
COALESCE(PymtDate, TODAY()), /
DAY
)
)
which gives me a table with the No of days to payment as below: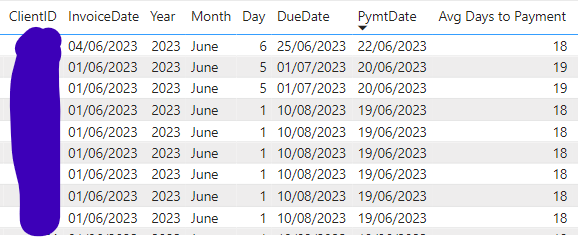 I want to show the Avg Days to payment in a column chart where those invoices that there is a payment date are shown in the invoice date and those invoices where there is not a payment received are shown in the current months…
For example the 133 days should be shown in the ongoing month.


Has Anyone been able to do anything similar? I have been searching for weeks and I couldn't find anything similar.
Thank you.