Hello all,
I'm facing a problem when trying to refresh a file which schedule the deliveries for a list of Open POs based on their availability of production quantities.
I have a data set with more than 200 Open POs and their respective products weekly production schedule and I've built several Power Query based versions to do the weekly allocations … but it's taking forever to calculate and it usually breaks / blocks end-users Excel.
I've built a sample data set in a Power BI file where I've included both the INPUTS and the desired OUTPUT like in the picture below: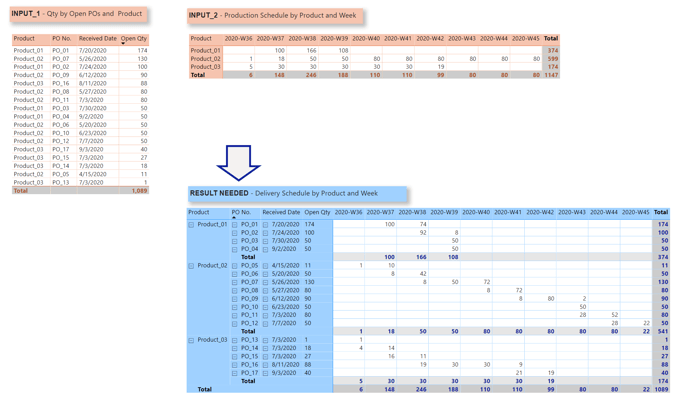 Final goal is to see the delivery Schedule like below (second page of the PBI report) and be able to interact with it:
LE: just to make sure the problem is completely explained: there are 2 INPUT tables and I need to create a 3rd Result table !
What would be your approach to get to this result?
Is it Power Query with Custom Functions as I started initially or is it DAX?
The file with the sample dataset is here:
Delivery Schedule by Product and Open PO.pbix (43.3 KB)
Thank you
Cristian