Hi,
Name is Josh, currently as a Planner at a Minerals company in NSW Australia. I'm interested to learn Power BI and it looks like i need some help.
My report has the below context, with 1000+ orders a target QTY and Target Hours per week. I need to categorize these orders by their Required Type. Example: SALES ORDER, PUMP, INTER COMPANY, SAFETY STOCK.
I am planning to create a virtual table that look as per the below pic. Which is a combination of 2 other tables provided by other departments. I created this one with the New Table icon in PB for this purpose.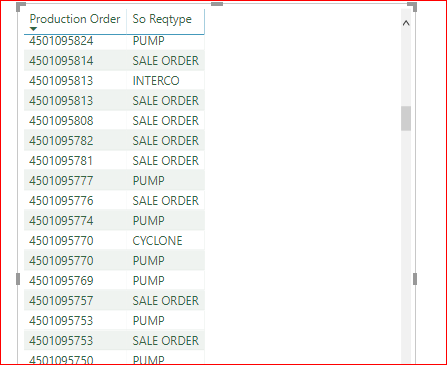 Basically what I need is to grab an order from the context table above, find in the virtual table and return the Required Type.
I have use the below formula "LOOKUPVALUE" to return the Required Type in column because this is the only way i have been able to do this. But i think using columns and LOOKUPVALUE have slowed the performance of report.

This pattern is very common for my current projects and would like some guidance if you could please help me out?
This is my Dashboard so far.