Hi, I am trying to calculate cumulative totals with my ClosingBalanceYear measure. Please see screenshot below of table. The "Running Total Measure2" column is my ClosingBalanceYear measure and I need it to add cumulative from FY13 onwards.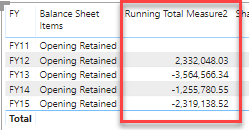 I am using a Date table as shown in the Enterprise DNA and all other transactions work it is just this one particular one that is still stopping me.
Thanks you for your help in advance.