I have a work project that I know can be handled in a much simpler method than I've been using. As such, the whole thing is so complicated I don't know how to provide a sample file. Below is a graphic showing simplified tables and relationships.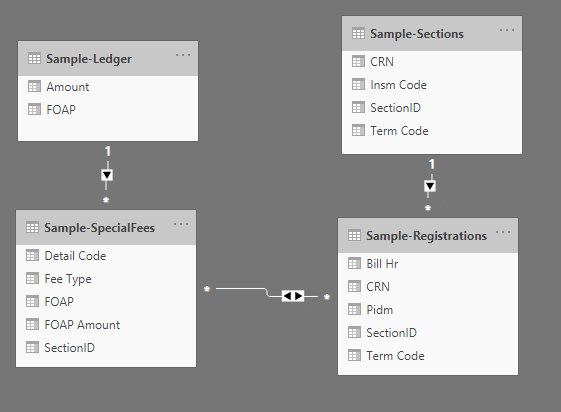 Basically, what I'm wanting to accomplish is build a measure named "Online Amount" involving the steps below:
Multiply Sample-Registrations[Bill Hr] * Sample-SpecialFees[FOAP Amount] where [Sample-SpecialFees[Detail Code] = "2401" and Sample-Sections[Insm Code] = "ECBOL" and Sample-SpecialFees[SectionID] = Sample-Registrations[SectionID]
I'm thinking I need to use SUMX to get the total of multiplying the [Bill Hr] * [FOAP Amount] and TREATAS to join the two [SectionID] fields, but can't figure out the way to write a DAX formula to accomplish all this.
I will have other more involved calculations to use for other measures since some will need to do the above multiplication where the [Fee Type] field = "BILL" or just bring in the [FOAP Amount] where the [Fee Type] field = "FLAT". They will also reference various other fields (not shown) in Sample-Sections. But I believe if I can get help in writing the formula for the details I mentioned above I will then be able to use variations to build the other measures I will need.
I appreciate any help. Sorry I can't provide an example of my file as the whole project references dozens of Oracle data tables.