Hi All,
Please see below simplified PBIX showing the issue I am facing.
Exploding Table.pbix (20.2 KB)
I have two tables, with the example extracting [ID] and [REG] from the Parent table and [ID] and [TEXT] coming from the child table. As you can see from the below, the relationship is identifying the two [ID] columns and joining them as expected.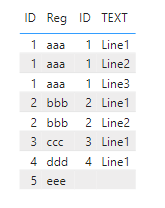 However, When I go to add a measure to the table, the data explodes showing repeating data from the parent table, as shown below:-

Any help in preventing this from happening is appreciated.
Many Thanks,
James