Hi All,
I am building a supply chain dash board at our company and a big problem we are having is STOCK OUTS.
I have a table of over 5 million rows that contains all our SAP movement data inside inbound goods in and outbound issues to production.
From here i have created the cumulative / Running totals measures very easily from the Enterprise DNA superb videos using (CTA = Cumulative Total All (All meaning all filter))
CTA QTY = 
CALCULATE([Total Quantity],
    FILTER( ALL( Dates ),
        Dates[Date] <= MAX( Dates[Date] )))

//All Statement takes all dates from start of time upto last date.
Now I see some information such as (See screen shot of my table)
Date that stock hit zero
length of time stock was at zero before goods in stock was received.
My problem is I cannot figure out how to…
Count the unique amount of times that product hit Zero stock? i have created a IF statement, N Stock Outs = IF( [CTA QTY] <= 0, "1", "0") as this creates a 0 and 1 for me but i dont know really where i go from here ? to get it to uniquely identify an exact count of a stock out date.

Create the N of days with zero stock. Potentially the formula above gives me a consecutive run of 1s i could some how count all those up and get a total but i dont know how to do it.
Is it possible one of you clever people can show me how to do it?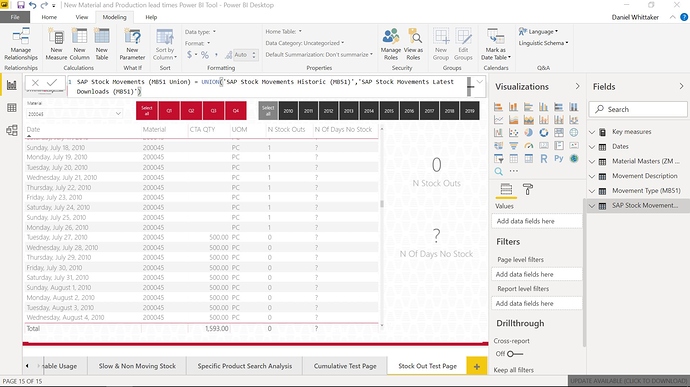 Appreciated
Dan