Hello All, Happy New Year in Advance!
I am working on customer analytics - trying to address few business questions around customer buying frequency, new and existing customers sales etc…
I'm using Avg Days between orders as one of the metric, this metrics provide insights into customers buying frequency…
I am trying to show how customers are spread with respect to the buying frequency - simply want to provide details of no. of customer who have an avg days between orders - say 10 - 20 days, 21 - 25 days, 30 - 35 days etc…
In trying to search this portal, found one of the solution which is exactly how i have my data model set up as well…
Here's what my current data looks like as well… I have customer and an avg days between orders (measure) for each customers, like shown in the image below.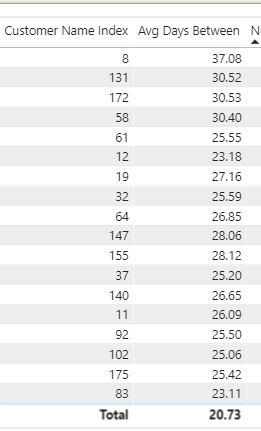 Need help in creating bins like shown in the image below…

So reaching out here to see if anyone has been able to take a measure (which is calculated using summarize function) and apply binning… I have attached a sample datamodel here, which is how my data model is set up as well…
EDNA - Average Days Between Solution.pbix (446.1 KB)
Once again, thanks for reading my post and appreciate any advise…
regards