Hi all,
I have a specific task to convert multiple persons responsible for hundreds of Cost Centers from row format into column format.
As can be seen in the raw format being in rows, one Cost Center can have multiple persons.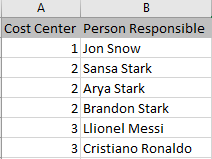 The desired result is to have each unique cost center on row and different persons in columns.
I have been googling but still cannot solve this.
Could anyone please help suggest a solution? Thank you and much appreciated.Cost Center Person.xlsx (9.7 KB)