Hi,
Could some one help me convert this working measure to the same result just as a calculated column?
This measure works perfectly the issue is i want to use the result as a LOOKUPVALUE which cant be done via a measure so i want to convert it but its not working.
This is the measure that working fine
Z = ('Normal Distribution Chart'[Lower & Upper Sigma Level Input] - [Mean (μ)]) / [Standard Deviation (σ)]
However when i try this is in calculated column i get this result.
Z Column = ('Normal Distribution Chart'[Lower & Upper Sigma Level Input] - [Mean (μ)]) / [Standard Deviation (σ)]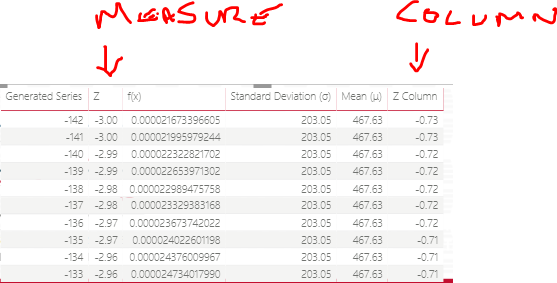 When i break the formula down its not using the mean or std dev in the table its using the mean and std dev of the total data set i must need to add some filters in there but cant figure out where,
Thanks
Dan