Hi All,
I have a matrix in PBI: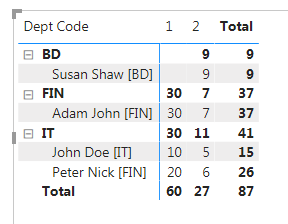 Now I want to create a DAX measure to filter which employees that have the department name inside the [xxx] in their names that are not equal to the Dept Code. For example in this case Peter Nick [FIN] has FIN in his name, which is not equal to the IT department code. The business case here is to identify who has charged their travel costs to the wrong department.
So after creating the DAX measure, I will use the measure to filter on this visual and then the visual will show only Peter Nick as the exceptional case.
I know we can create a new column in Query Editor to compare the [xxx] with the department code but wonder if any way to do it with DAX. I attached the pbix file below.
Travel expense.pbix (42.6 KB)
Thanks so much!
Eric