Hi everybody,
First of all, the forum is an amazing source of ideas/information, thank you all
I would like to build a report with data to be expressed upon slicers as below example:
Benchmark to show "vs Prior Year" or "vs Budget" value upon slicer selection.
I understand this is done through SELECTEDVALUE and SWITCH(TRUE formulas. I'm good with it.

Date Range to display the x-axis of the chart upon slicer selection
It seems that by default chart is displaying in x-axis year-to-date month columns (in this report up to month of June) and when slicing by another date range e.g. "Quarter-to-Date" chart only displays in x-axis months of related quarter and the value is express per month… (separately) and not escalated as April=April Budget then May=Sum of April+May Budget then June=Sum of April+May+Jun Budget as would do the QTD formulas…
How would model and/or slicer be built to display x-axis this way with columns shown as per slicer and values per month and not "to-Date" ?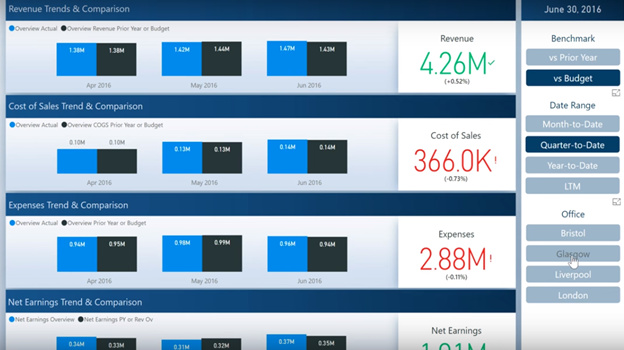 I would appreciate your kind support.
Best regards
Alexandre