Hi,
Hopefully a straight forward one here…
I have a Matrix which reports Sales and Returns for our products. We can have examples where goods are sold or returned and where their ProductID is not in our Products table. Instead of just showing as BLANK in the Matrix, they have asked if I show this as 'Missing', so that the users are aware of an un-mapped product.
I have tried various options of ISBLANK, but I think whatever the solution, it needs to be at the Dimension lookup table level.
Please see example pbix attached using some very basic mock up data of Fruit sales and returns: https://www.dropbox.com/s/03nak92utjr1rwr/Null%20in%20Dimension.pbix?dl=0
The DIM table Fruits, has rows for Apples, Bananas and Oranges, but not Pears, where we have sales of 60 in the table Sales.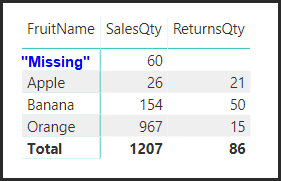 Instead of the Matrix showing a blank value, I want to replace BLANK with "Missing".
Many thanks