Probably something pretty easy but I cannot really figure out what to use and if it is possible.
I have a visual which shows my ordertotal/sales/targets.
That works nicely but I added a visual filter to the graph to only show business days.
I realized that some orders are raised on holidays and saw a mismatch between my numbers.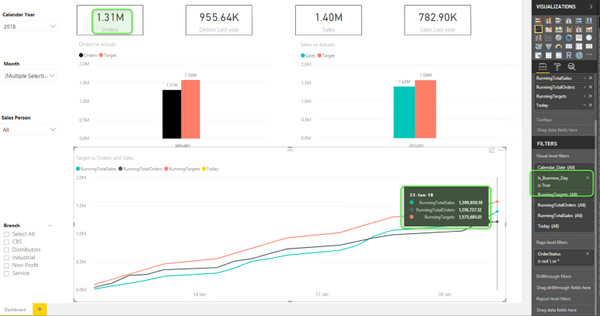 My measure is as following:
RunningTotalOrders = IF(LASTDATE(zz_Dim_Date[Calendar_Date]) > TODAY(), BLANK(),CALCULATE(sum(OrdersRaised[OrderTotal]),FILTER(ALLSELECTED(zz_Dim_Date),zz_Dim_Date[Calendar_Date] <= MAX(zz_Dim_Date[Calendar_Date]))))
It must be something with the ALLSELECTED() but not sure if I can just eliminate that one visual filter from my calculation so that it shows the right final value even though I only "show visually" the business days.
I would like that I have something link ALLSLICERSBUTNOTVISUALFILTERS() as function if you know what I mean. Would there be a workaround for this scenario?
Thanks a lot