Hi
Hoping someone can shed some light on a calculation issue i have.
The scenario is i want to be able to calculate the % of change positive or negative comparing two values last yeat versus this year.
Eg This Year the value is 2, Last year the value was 0, so there is a 2 point difference yoy, so how do i calculate this as a percentage?.
I have been trying to get some dax calculations to work for me. See the table below. But i dont think i have the % difference calculation working properly as the result for where the value is 2 for this year and 0 for last is producing a 0% yoy difference result when applying my calculation.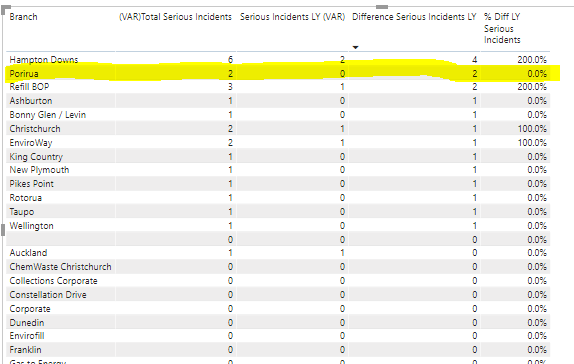 My calculations in the table are structured as follows
(VAR)Total Serious Incidents =

VAR SIValue =

CALCULATE([Total Serious Incidents])

RETURN

COALESCE(SIValue,0).

Serious Incidents LY (VAR) =

VAR SILYValue =

CALCULATE([Total Serious Incidents],SAMEPERIODLASTYEAR(Dates[Date]))

RETURN

COALESCE(SILYValue,0)

Difference Serious Incidents LY = 
IF(ISBLANK([Serious Incidents LY (VAR)]),BLANK(),[(VAR)Total Serious Incidents]-[Serious Incidents LY (VAR)])

% Diff LY Serious Incidents = DIVIDE([Difference Serious Incidents LY],[Serious Incidents LY (VAR)],0)