Hello,
I have created a calculated column end date based on the next records start date in DAX -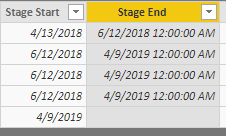 using this DAX code -

My requirement is to perform this exact operation within query editor so that I can utilize query editor to additionally fill in the dates between.
Any insight would be greatly appreciated. Thanks!