Hi,
I have the attached model in pbix where you will see a simplified model of bill of material orders, so basically ordering the most granular products of an order. I'm currently having with the cumulative total
of "ordered" quantities based on a ranking of orders.
Model:
Order -> Order Lines (qty) > Products -> Product BOM (qty) -> Bom Items.
Ordered quantities = basically the cumulative total of Orderlines Qty * Product BOM Qty, ranked by a custom ranking (based on the expected delivery date of the order).
My cumulative total is nicely adding up the totals using the ranking, but not properly by BOM item.
=> I seem to have difficulty to add another dimensions to the calculate filter.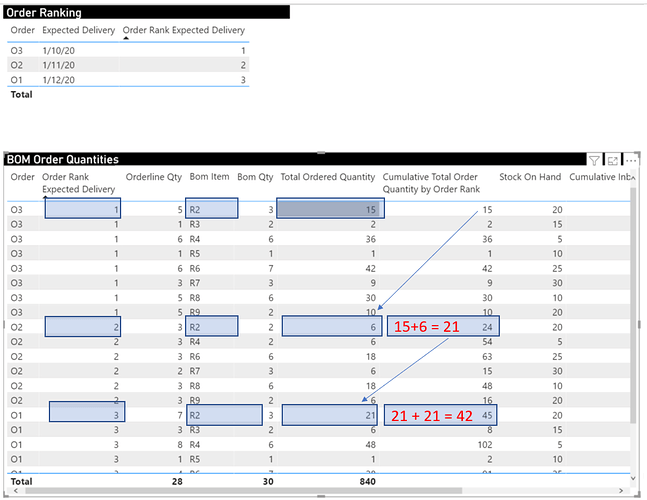 edna - Bom Stock Report.pbix
(61.1 KB)
Off topic:
Notice if you want to multiply fields across multiple dimensions, it only works if you do calculate(sum(value)),TheOtherEntity). I don't get what "TheOtherEntity" does to the filter context of the current, but it only works properly if you do it this way.