Hi,
I am new to Power BI but have been able to create a few reports - learning on my own (by making mistakes).
I have come across something I need help with.
I have watched almost all of the videos that cover actual vs budget topic. I am not able to resolve the issue that I'm having. I am not sure why.
So what I would like to have in PBI as a visual is following (made up numbers):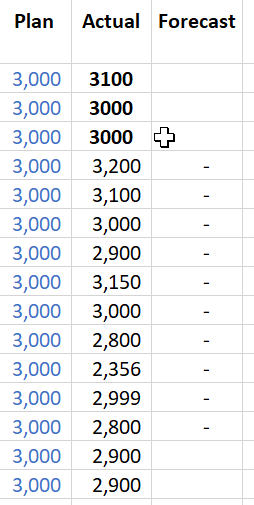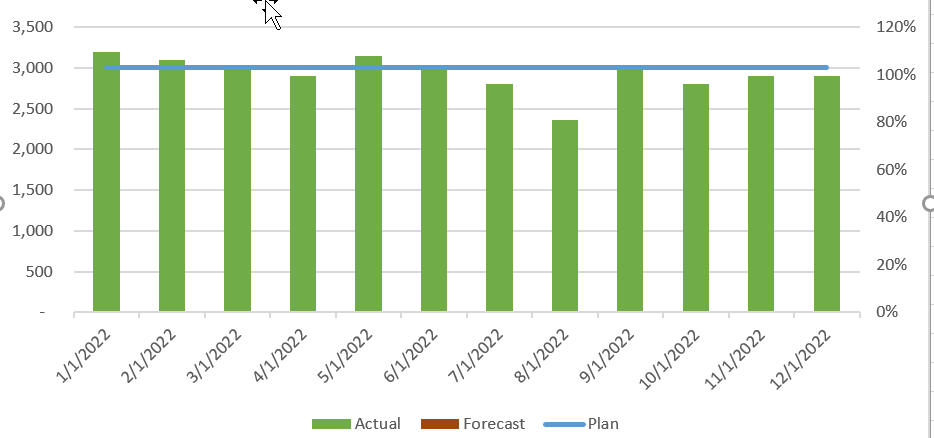 Actuals come in daily, Plan is by month (in an excel sheet).
I followed the videos (Actual vs Budget) and this is what I ended up with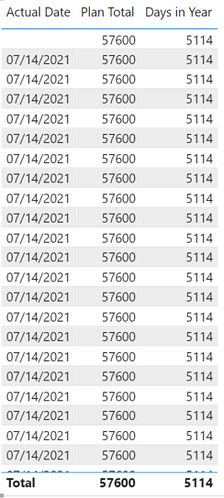 Formulas used:
Plan Total = sum('Test Table for Goals 2'[Plan])
Days in Year = CALCULATE(COUNTROWS('Date'), ALLEXCEPT('Date', 'Date'[Year]))
I'm not sure why I'm not getting 365 days as I saw in one of the videos rather I'm getting 5114 days (I filtered Year 2021 only for the page). Also, I don't see anything in Actual column when I add that to the report next to "Actual Date" column in the report.
How can I get to what I'm trying to accomplish:
Actuals Column: by month
Plan Column: by month
Forecast Column: by month
Visual as shown
A note: actual numbers are count of column that has data in text format. Example: month of July actual numbers let's say 500 is a count of total names in a column. I thought I just mention that it is not sales number (number format) rather it's a count of text rows by month.
Thank you for helping.