Hello, I am trying to perform some analysis that reminded me of the previous EDNA churn example (looking whether a current customer previously ordered within a 90 day timeframe). However, my more specific issue is:
I want to see if what % of customers taken from a snap shot date (let say most recent date in dataset), ordered in the last 7days and what % of all customer activity were those customers.
Example.
On 8/31 - I had 4,037 customer orders, priod days as follows: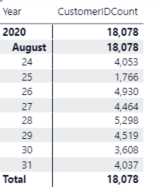 what Dax formula can I write to group customers just from 8/31 and evaluate them in the context of ordering or not in the prior days?
Please advise,
Thanks.