I'm not sure if this really is a slowly changing dimension question or not, but the issue is as follows:
We're a sports medicine hospital, and for one study we're doing we want to match up a strength test result with a patient's bodyweight to end up with a force/bodyweight measure.
The issue is, our most reliable bodyweight measure isn't done on the same day as the strength test, so I have one table with patient identification numbers, and their bodyweight measures, along with the date we got the bodyweight: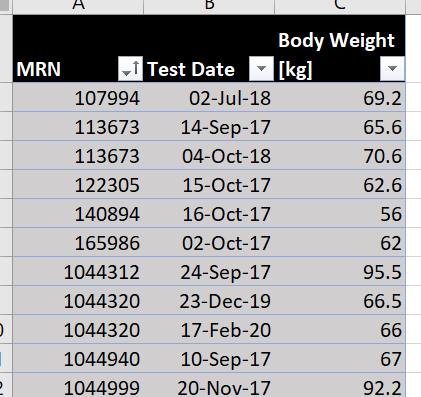 If we take our first subject with 2 weight measures (MRN: 113673) whose weight went from 65.6kg to 70.6kg in 13 months - if I have a strength measure that's done close to Sep 2017 I'd use 65.6, and if it's in Oct 2018, I'd use 70.6. If it's March 2018, then I'd use the mid point of these two as a best estimate, etc.
I've thought of a ridiculously big excel table which has each person in a column, and all the dates as rows, and then I could manually interpolate between the "known" values, but since I'm talking about more than 1,000 patients and 5,000 measurements, this is unwieldy and not future-proof.
Any thoughts on best practice here?