Hi everyone,
I feel like I am stuck in this simple concept, so I am wondering if anyone can cast their eyes and point me to where I am failing, thanks.
My data holds two simple tables:
Table 1 contains 2 columns, Date & Value.
Table 2 contains a Date table (with an active relationship with table 1 on date column)
I am trying to get the total sales value per week and per previous week.
A few attempts with no luck:
Reporting last week v2 = 
    CALCULATE( [Total Reporting],
        FILTER(ALL('Date'), 
            'Date'[Weeknum] = SELECTEDVALUE('Date'[Weeknum]) -1 && 
            'Date'[Fin Year] = SELECTEDVALUE('Date'[Fin Year])))


Reporting PW = 
VAR curwek= SELECTEDVALUE('Date'[Weeknum])
VAR curyr = SELECTEDVALUE('Date'[Fin Year])
VAR MaxWek = CALCULATE(MAX('Date'[Weeknum]),ALL('Date'))

RETURN

SUMX(
    FILTER(ALL('Date'),
        IF(curwek=1,
            'Date'[Weeknum] = MaxWek && 'Date'[Fin Year] = curyr -1,
            'Date'[Weeknum] = curwek -1 && 'Date'[Fin Year] = curyr)),
    [Total Reporting]
)

Here is a screenshot of the output: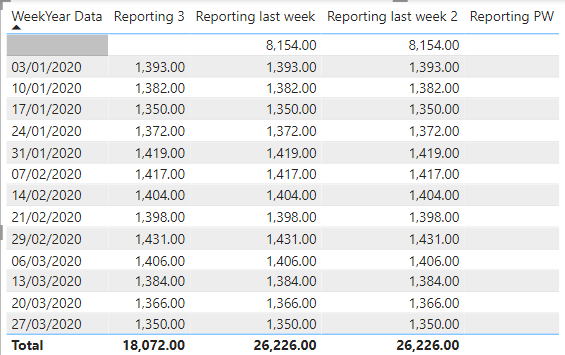 Sample file (excel) [sample Sales per week.xlsx|attachment]
(upload://4aFf3uz8ERQ55mszfhHLXO9k4Dj.xlsx) (8.6 KB)
Power BI File sample Sales per week.pbix (187.3 KB)
Thanks in advance.
Hesham