Hi Team,
I am stuck in a scenario, wherein i need to retrieve the data for a particular user from his past values.
as shown is the table image attached for the current month , i am able to identify that the user was abuser for a particular condition by using count and allexpect dax.
But now the business also wants to know which were those months when he was abuser. So is there any any possibility of creating a dax which concatenates the month name when the same user was having the same abuser description in previous months.
Example in the table - current month attached: -
I have selected 2020 - it tells me that , phone no. 13,16 , 21 had also been abuser previously as well based on the abuser count. Now business needs to know the months when they were abuser previous as well.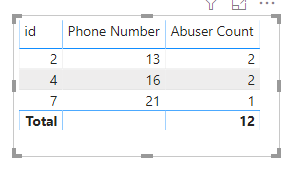 I am attaching the sample pbix file and output required.
Test edna.pbix (46.0 KB)
![test|690x107]