Here's Kiran's entry for Power BI Challenge 8. @kirank.gh, feel free to add other details of your work.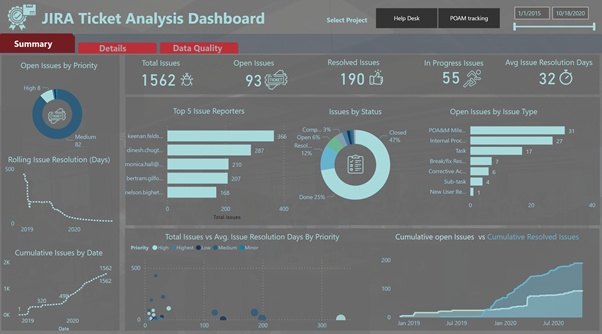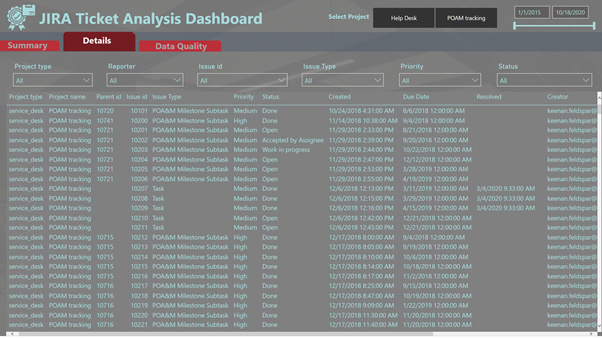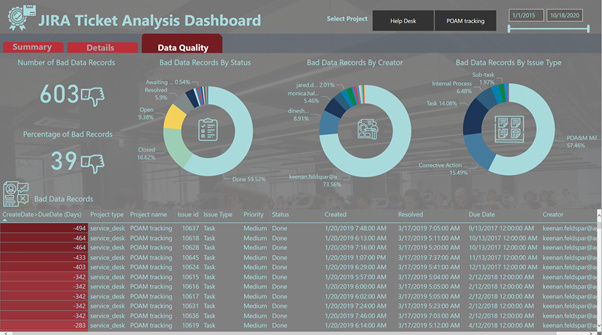 Here is the link to the report:
And here's how Kiran described it:
Following is brief writeup for the submission
• Data loading and transformation

Excel loaded into Power BI
Used Enterprise DNA extended date table M code as [Dates] Extended Date Table (Power Query M function)

• Data modelling

Created following dimensions
a. Issue Type
b. Project
c. Priority
d. Project Type
e. Resolution
f. Creator
g. Issue Status
h. Reporter

Fact Table
a. Jira
Created many to one relationship between Facts and dimensions

DAX calculations
Created following DAX calculations

Reports and visualizations

Created a background image based on EDNA Visualization course
Developed color template using color generator (coolers) and imported the theme
Downloaded icons from flaticon

Created Summary Report

Created Details Report

Created Data Quality

Inspiration:

Navigation was inspired by @DianaB entry in Challenge 3 HR Data Insights
Most of the Visualization were inspired from EDNA Courses
To learn about the real-life scenario presented for the challenge, be sure to click on the image below.