All,
Ever since I began my Power BI journey, I have strongly believed that Enterprise DNA membership provides incredible value in its outstanding content, exceptional forum support, and array of community activities. In 2021, we are taking that value to the next level by providing at least one brand new, in-depth course every month for the entire year. In addition to courses by Sam McKay, we have expanded the universe of EDNA content creators to our expert team in order to take advantage of their individual strengths and subject matter expertise. Power BI (and more broadly the Microsoft Power Platform) has become so feature-rich and flexible over the past five years that no one person or even group of people can master all of its capabilities and potential. However, by leveraging the diverse expertise and perspectives of the expert team, we feel that we can provide you the most comprehensive, innovative and practically applicable training available anywhere.
The course we are rolling out for this month is Optimizing DAX, taught by Enterprise DNA Expert @Nick_M. This course has been much requested over the past year and is a very important step in the eDNA learning path.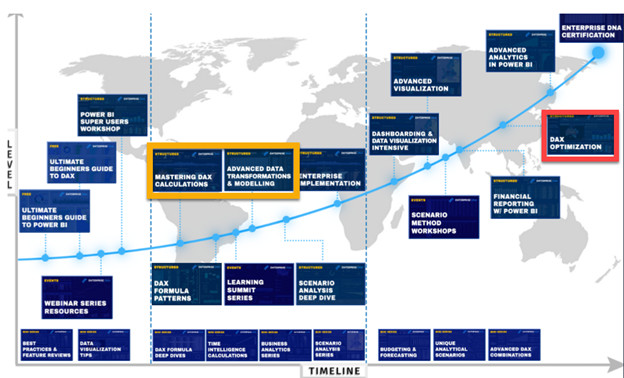 The mantra I have always followed with DAX is "make it work, then make it fast". We have a lot of outstanding content on the former, but this is the first dedicated course focused on the latter. Nick will teach you how to diagnose the root causes of a slow measure, optimize your data model, and then improve your DAX code to increase performance.
Sam and I did an interview with Nick that you can find here, where he talks about the content of the course, and how to work through it to get the most out of the material. Here are the primary topic areas he covers in this course:

The courses we will be releasing this year will range from beginner to intermediate to advanced, with the majority being somewhere in the middle. However, this one requires some significant pre-learning. To get the most out of this course you should be very comfortable with the concepts covered in the Mastering DAX Calculations and Data Modeling courses highlighted above in the Learning Map. (Need to learn to make it work before you can learn to make it fast…).
We are confident though that with this background knowledge, you will find this course interesting, practical and highly beneficial to your own projects. The entire content creation team is really looking forward to going on this journey with you this year, and we welcome your feedback throughout.
Here's the link to the course: Optimizing DAX
As an added bonus, we will be rolling out a new initiative soon that will provide you additional support and instruction in remedying performance problems with your specific measures. But that's a message for another day…
Huge thanks to Nick for all his hard work in designing and implementing this outstanding course.