Hi DAX Experts,
I need some help with my below requirements.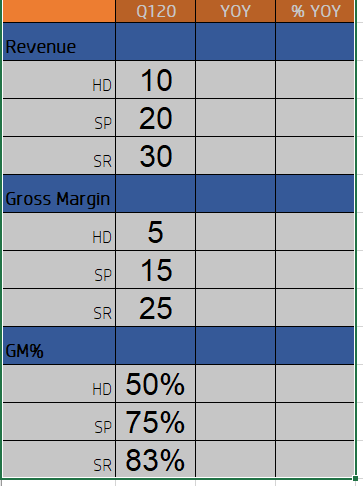 I need the output in the above format, however, I was able to get for Revenu and Gross Margin, bu Gross Margin% I didn't. since the values, I need to show at row level and I am not getting an idea of how to present it.
Any help much appreciated. Below is the data for the same.
| FiscalYearQuarter | Category | Name | Value |
| --- | --- | --- | --- |
| FY2019-Q1 | HD | REVENUE | 0 |
| FY2019-Q2 | HD | REVENUE | 0 |
| FY2019-Q4 | HD | REVENUE | 0 |
| FY2019-Q2 | HD | REVENUE | 0 |
| FY2019-Q3 | HD | REVENUE | 0 |
| FY2019-Q3 | HD | REVENUE | 0 |
| FY2019-Q1 | HD | REVENUE | 0 |
| FY2019-Q4 | HD | REVENUE | 0 |
| FY2019-Q4 | HD | REVENUE | 0 |
| FY2020-Q1 | HD | REVENUE | 0 |
| FY2019-Q2 | HD | REVENUE | 0 |
| FY2019-Q1 | HD | REVENUE | 0 |
| FY2019-Q3 | HD | REVENUE | 0 |
| FY2019-Q1 | HD | COS | 0 |
| FY2019-Q2 | HD | COS | 0 |
| FY2019-Q4 | HD | COS | 0 |
| FY2019-Q2 | HD | COS | 0 |
| FY2019-Q3 | HD | COS | 0 |
| FY2019-Q3 | HD | COS | 0 |
| FY2019-Q1 | HD | COS | 0 |
| FY2019-Q4 | HD | COS | 0 |
| FY2019-Q4 | HD | COS | 0 |
| FY2020-Q1 | HD | COS | 0 |
| FY2019-Q2 | HD | COS | 0 |
| FY2019-Q1 | HD | COS | 0 |
| FY2019-Q3 | HD | COS | 0 |
| FY2019-Q1 | HD | GROSS MARGIN | 0 |
| FY2019-Q2 | HD | GROSS MARGIN | 0 |
| FY2019-Q4 | HD | GROSS MARGIN | 0 |
| FY2019-Q2 | HD | GROSS MARGIN | 0 |
| FY2019-Q3 | HD | GROSS MARGIN | 0 |
| FY2019-Q3 | HD | GROSS MARGIN | 0 |
| FY2019-Q1 | HD | GROSS MARGIN | 0 |
| FY2019-Q4 | HD | GROSS MARGIN | 0 |
| FY2019-Q4 | HD | GROSS MARGIN | 0 |
| FY2020-Q1 | HD | GROSS MARGIN | 0 |
| FY2019-Q2 | HD | GROSS MARGIN | 0 |
| FY2019-Q1 | HD | GROSS MARGIN | 0 |
| FY2019-Q3 | HD | GROSS MARGIN | 0 |
| FY2019-Q1 | SR | REVENUE | 0 |
| FY2019-Q1 | SR | REVENUE | 0 |
| FY2019-Q1 | SR | REVENUE | 0 |
| FY2019-Q2 | SR | REVENUE | 0 |
| FY2019-Q2 | SR | REVENUE | 0 |
| FY2019-Q2 | SR | REVENUE | 0 |
| FY2019-Q3 | SR | REVENUE | 0 |
| FY2019-Q3 | SR | REVENUE | 0 |
| FY2019-Q3 | SR | REVENUE | 0 |
| FY2019-Q4 | SR | REVENUE | 0 |
| FY2019-Q4 | SR | REVENUE | 0 |
| FY2019-Q4 | SR | REVENUE | 0 |
| FY2019-Q1 | SR | COS | 0 |
| FY2019-Q1 | SR | COS | 0 |
| FY2019-Q1 | SR | COS | 0 |
| FY2019-Q2 | SR | COS | 0 |
| FY2019-Q2 | SR | COS | 0 |
| FY2019-Q2 | SR | COS | 0 |
| FY2019-Q3 | SR | COS | 0 |
| FY2019-Q3 | SR | COS | 0 |
| FY2019-Q3 | SR | COS | 0 |
| FY2019-Q4 | SR | COS | 0 |
| FY2019-Q4 | SR | COS | 0 |
| FY2019-Q4 | SR | COS | 0 |
| FY2019-Q1 | SR | GROSS MARGIN | 0 |
| FY2019-Q1 | SR | GROSS MARGIN | 0 |
| FY2019-Q1 | SR | GROSS MARGIN | 0 |
| FY2019-Q2 | SR | GROSS MARGIN | 0 |
| FY2019-Q2 | SR | GROSS MARGIN | 0 |
| FY2019-Q2 | SR | GROSS MARGIN | 0 |
| FY2019-Q3 | SR | GROSS MARGIN | 0 |
| FY2019-Q3 | SR | GROSS MARGIN | 0 |
| FY2019-Q3 | SR | GROSS MARGIN | 0 |
| FY2019-Q4 | SR | GROSS MARGIN | 0 |
| FY2019-Q4 | SR | GROSS MARGIN | 0 |
| FY2019-Q4 | SR | GROSS MARGIN | 0 |
| FY2019-Q3 | HD | REVENUE | 0 |
| FY2019-Q3 | HD | REVENUE | 0 |
| FY2019-Q1 | HD | REVENUE | 0 |
| FY2019-Q2 | HD | REVENUE | 0 |
| FY2019-Q4 | HD | REVENUE | 0 |
| FY2020-Q1 | HD | REVENUE | 0 |
| FY2019-Q3 | HD | REVENUE | 0 |
| FY2020-Q1 | HD | REVENUE | 0 |
| FY2019-Q2 | HD | REVENUE | 0 |
| FY2019-Q1 | HD | REVENUE | 0 |
| FY2019-Q4 | HD | REVENUE | 0 |
| FY2019-Q4 | HD | REVENUE | 0 |
| FY2019-Q1 | HD | REVENUE | 0 |
| FY2019-Q2 | HD | REVENUE | 0 |
| FY2019-Q4 | HD | REVENUE | 0 |
| FY2019-Q3 | HD | REVENUE | 0 |
| FY2019-Q1 | HD | REVENUE | 0 |
| FY2019-Q2 | HD | REVENUE | 0 |
| FY2019-Q3 | HD | COS | 0 |
| FY2019-Q3 | HD | COS | 0 |
| FY2019-Q1 | HD | COS | 0 |
| FY2019-Q2 | HD | COS | 0 |
| FY2019-Q4 | HD | COS | 0 |
| FY2020-Q1 | HD | COS | 0 |
| FY2019-Q3 | HD | COS | 0 |
| FY2020-Q1 | HD | COS | 0 |
| FY2019-Q2 | HD | COS | 0 |
| FY2019-Q1 | HD | COS | 0 |
| FY2019-Q4 | HD | COS | 0 |
| FY2019-Q4 | HD | COS | 0 |
| FY2019-Q1 | HD | COS | 0 |
| FY2019-Q2 | HD | COS | 0 |
| FY2019-Q4 | HD | COS | 0 |
| FY2019-Q3 | HD | COS | 0 |
| FY2019-Q1 | HD | COS | 0 |
| FY2019-Q2 | HD | COS | 0 |
| FY2019-Q3 | HD | GROSS MARGIN | 0 |
| FY2019-Q3 | HD | GROSS MARGIN | 0 |
| FY2019-Q1 | HD | GROSS MARGIN | 0 |
| FY2019-Q2 | HD | GROSS MARGIN | 0 |
| FY2019-Q4 | HD | GROSS MARGIN | 0 |
| FY2020-Q1 | HD | GROSS MARGIN | 0 |
| FY2019-Q3 | HD | GROSS MARGIN | 0 |
| FY2020-Q1 | HD | GROSS MARGIN | 0 |
| FY2019-Q2 | HD | GROSS MARGIN | 0 |
| FY2019-Q1 | HD | GROSS MARGIN | 0 |
| FY2019-Q4 | HD | GROSS MARGIN | 0 |
| FY2019-Q4 | HD | GROSS MARGIN | 0 |
| FY2019-Q1 | HD | GROSS MARGIN | 0 |
| FY2019-Q2 | HD | GROSS MARGIN | 0 |
| FY2019-Q4 | HD | GROSS MARGIN | 0 |
| FY2019-Q3 | HD | GROSS MARGIN | 0 |
| FY2019-Q1 | HD | GROSS MARGIN | 0 |
| FY2019-Q2 | HD | GROSS MARGIN | 0 |
| FY2020-Q1 | HD | REVENUE | 19248.17833 |
| FY2020-Q1 | HD | REVENUE | 69511.24394 |
| FY2020-Q1 | HD | COS | 21098.96421 |
| FY2020-Q1 | HD | COS | 71634.98441 |
| FY2020-Q1 | HD | GROSS MARGIN | -1850.785879 |
| FY2020-Q1 | HD | GROSS MARGIN | -2123.740474 |
| FY2019-Q1 | SP | REVENUE | 33.720539 |
| FY2019-Q1 | SP | REVENUE | 11.062 |
| FY2019-Q1 | SP | REVENUE | 57.285 |
| FY2019-Q2 | SP | REVENUE | 41.815856 |
| FY2019-Q2 | SP | REVENUE | 12.54936907 |
| FY2019-Q2 | SP | REVENUE | 53.35 |
| FY2019-Q3 | SP | REVENUE | 44.61768385 |
| FY2019-Q3 | SP | REVENUE | 12.32861059 |
| FY2019-Q3 | SP | REVENUE | 56.018 |
| FY2019-Q4 | SP | REVENUE | 59.29851815 |
| FY2019-Q4 | SP | REVENUE | 14.49 |
| FY2019-Q4 | SP | REVENUE | 55.30147587 |
| FY2019-Q1 | SP | COS | 40.27194985 |
| FY2019-Q1 | SP | COS | 24.99068535 |
| FY2019-Q1 | SP | COS | 65.22538534 |
| FY2019-Q2 | SP | COS | 43.18846514 |
| FY2019-Q2 | SP | COS | 24.04584454 |
| FY2019-Q2 | SP | COS | 67.13616611 |
| FY2019-Q3 | SP | COS | 38.76822477 |
| FY2019-Q3 | SP | COS | 30.05502872 |
| FY2019-Q3 | SP | COS | 63.22850634 |
| FY2019-Q4 | SP | COS | 46.62591325 |
| FY2019-Q4 | SP | COS | 29.27767149 |
| FY2019-Q4 | SP | COS | 60.90160338 |
| FY2019-Q1 | SP | GROSS MARGIN | -6.551410852 |
| FY2019-Q1 | SP | GROSS MARGIN | -13.92868535 |
| FY2019-Q1 | SP | GROSS MARGIN | -7.94038534 |
| FY2019-Q2 | SP | GROSS MARGIN | -1.372609142 |
| FY2019-Q2 | SP | GROSS MARGIN | -11.49647547 |
| FY2019-Q2 | SP | GROSS MARGIN | -13.78616611 |
| FY2019-Q3 | SP | GROSS MARGIN | 5.849459088 |
| FY2019-Q3 | SP | GROSS MARGIN | -17.72641814 |
| FY2019-Q3 | SP | GROSS MARGIN | -7.210506338 |
| FY2019-Q4 | SP | GROSS MARGIN | 12.6726049 |
| FY2019-Q4 | SP | GROSS MARGIN | -14.78767149 |
| FY2019-Q4 | SP | GROSS MARGIN | -5.600127511 |
| FY2019-Q1 | SR | REVENUE | 9263.22274 |
| FY2019-Q1 | SR | REVENUE | 9856.85039 |
| FY2019-Q1 | SR | REVENUE | 1044.40204 |
| FY2019-Q1 | SR | REVENUE | 9961.07052 |
| FY2019-Q1 | SR | REVENUE | 5090.99738 |
| FY2019-Q1 | SR | REVENUE | 15397.62455 |
| FY2019-Q2 | SR | REVENUE | 10617.54188 |
| FY2019-Q2 | SR | REVENUE | 9650.35561 |
| FY2019-Q2 | SR | REVENUE | 1318.04654 |
| FY2019-Q2 | SR | REVENUE | 10354.88754 |
| FY2019-Q2 | SR | REVENUE | 4964.76215 |
| FY2019-Q2 | SR | REVENUE | 15106.91499 |
| FY2019-Q3 | SR | REVENUE | 11657.17065 |
| FY2019-Q3 | SR | REVENUE | 9442.33904 |
| FY2019-Q3 | SR | REVENUE | 1569.00224 |
| FY2019-Q3 | SR | REVENUE | 10371.73542 |
| FY2019-Q3 | SR | REVENUE | 5280.13229 |
| FY2019-Q3 | SR | REVENUE | 15550.49053 |
| FY2019-Q4 | SR | REVENUE | 12471.57063 |
| FY2019-Q4 | SR | REVENUE | 9592.67143 |
| FY2019-Q4 | SR | REVENUE | 1303.76539 |
| FY2019-Q4 | SR | REVENUE | 10372.79257 |
| FY2019-Q4 | SR | REVENUE | 6774.93758 |
| FY2019-Q4 | SR | REVENUE | 15489.45227 |
| FY2019-Q1 | SR | COS | 6017.1622 |
| FY2019-Q1 | SR | COS | 6012.29595 |
| FY2019-Q1 | SR | COS | 652.98564 |
| FY2019-Q1 | SR | COS | 7229.99749 |
| FY2019-Q1 | SR | COS | 3155.3196 |
| FY2019-Q1 | SR | COS | 12828.53586 |
| FY2019-Q2 | SR | COS | 5932.85113 |
| FY2019-Q2 | SR | COS | 6843.40647 |
| FY2019-Q2 | SR | COS | 1024.37115 |
| FY2019-Q2 | SR | COS | 6997.31602 |
| FY2019-Q2 | SR | COS | 2537.19645 |
| FY2019-Q2 | SR | COS | 12146.70244 |
| FY2019-Q3 | SR | COS | 7001.2693 |
| FY2019-Q3 | SR | COS | 6414.06903 |
| FY2019-Q3 | SR | COS | 961.30466 |
| FY2019-Q3 | SR | COS | 7150.13421 |
| FY2019-Q3 | SR | COS | 3745.79191 |
| FY2019-Q3 | SR | COS | 11804.54292 |
| FY2019-Q4 | SR | COS | 9010.32772 |
| FY2019-Q4 | SR | COS | 6383.59098 |
| FY2019-Q4 | SR | COS | 816.67253 |
| FY2019-Q4 | SR | COS | 5346.00202 |
| FY2019-Q4 | SR | COS | 5023.22128 |
| FY2019-Q4 | SR | COS | 11405.31612 |
| FY2019-Q1 | SR | GROSS MARGIN | 3246.06054 |
| FY2019-Q1 | SR | GROSS MARGIN | 3844.55444 |
| FY2019-Q1 | SR | GROSS MARGIN | 391.4164 |
| FY2019-Q1 | SR | GROSS MARGIN | 2731.07303 |
| FY2019-Q1 | SR | GROSS MARGIN | 1935.67778 |
| FY2019-Q1 | SR | GROSS MARGIN | 2569.08869 |
| FY2019-Q2 | SR | GROSS MARGIN | 4684.69075 |
| FY2019-Q2 | SR | GROSS MARGIN | 2806.94914 |
| FY2019-Q2 | SR | GROSS MARGIN | 293.67539 |
| FY2019-Q2 | SR | GROSS MARGIN | 3357.57152 |
| FY2019-Q2 | SR | GROSS MARGIN | 2427.5657 |
| FY2019-Q2 | SR | GROSS MARGIN | 2960.21255 |
| FY2019-Q3 | SR | GROSS MARGIN | 4655.90135 |
| FY2019-Q3 | SR | GROSS MARGIN | 3028.27001 |
| FY2019-Q3 | SR | GROSS MARGIN | 607.69758 |
| FY2019-Q3 | SR | GROSS MARGIN | 3221.60121 |
| FY2019-Q3 | SR | GROSS MARGIN | 1534.34038 |
| FY2019-Q3 | SR | GROSS MARGIN | 3745.94761 |
| FY2019-Q4 | SR | GROSS MARGIN | 3461.24291 |
| FY2019-Q4 | SR | GROSS MARGIN | 3209.08045 |
| FY2019-Q4 | SR | GROSS MARGIN | 487.09286 |
| FY2019-Q4 | SR | GROSS MARGIN | 5026.79055 |
| FY2019-Q4 | SR | GROSS MARGIN | 1751.7163 |
| FY2019-Q4 | SR | GROSS MARGIN | 4084.13615 |
| FY2020-Q1 | HD | REVENUE | 5432.05919 |
| FY2020-Q1 | HD | REVENUE | 2154.202289 |
| FY2020-Q1 | HD | COS | 5554.495762 |
| FY2020-Q1 | HD | COS | 1631.535421 |
| FY2020-Q1 | HD | GROSS MARGIN | -122.4365725 |
| FY2020-Q1 | HD | GROSS MARGIN | 522.6668675 |
| FY2019-Q1 | SP | REVENUE | 11.3657769 |
| FY2019-Q1 | SP | REVENUE | 2.453986459 |
| FY2019-Q1 | SP | REVENUE | 6.496337964 |
| FY2019-Q2 | SP | REVENUE | 13.84321116 |
| FY2019-Q2 | SP | REVENUE | 2.245091546 |
| FY2019-Q2 | SP | REVENUE | 6.999021787 |
| FY2019-Q3 | SP | REVENUE | 14.82758656 |
| FY2019-Q3 | SP | REVENUE | 1.69932973 |
| FY2019-Q3 | SP | REVENUE | 6.956795695 |
| FY2019-Q4 | SP | REVENUE | 9.437665765 |
| FY2019-Q4 | SP | REVENUE | 3.495261562 |
| FY2019-Q4 | SP | REVENUE | 6.144359187 |
| FY2019-Q1 | SP | COS | 7.868806204 |
| FY2019-Q1 | SP | COS | 2.078006988 |
| FY2019-Q1 | SP | COS | 6.626097207 |
| FY2019-Q2 | SP | COS | 7.188971728 |
| FY2019-Q2 | SP | COS | 2.624104479 |
| FY2019-Q2 | SP | COS | 9.648194668 |
| FY2019-Q3 | SP | COS | 4.2055031 |
| FY2019-Q3 | SP | COS | 3.040754542 |
| FY2019-Q3 | SP | COS | 9.31257846 |
| FY2019-Q4 | SP | COS | 4.842250066 |
| FY2019-Q4 | SP | COS | 2.654782786 |
| FY2019-Q4 | SP | COS | 10.31740536 |
| FY2019-Q1 | SP | GROSS MARGIN | 3.496970698 |
| FY2019-Q1 | SP | GROSS MARGIN | 0.375979471 |
| FY2019-Q1 | SP | GROSS MARGIN | -0.129759242 |
| FY2019-Q2 | SP | GROSS MARGIN | 6.654239432 |
| FY2019-Q2 | SP | GROSS MARGIN | -0.379012933 |
| FY2019-Q2 | SP | GROSS MARGIN | -2.649172882 |
| FY2019-Q3 | SP | GROSS MARGIN | 10.62208346 |
| FY2019-Q3 | SP | GROSS MARGIN | -1.341424812 |
| FY2019-Q3 | SP | GROSS MARGIN | -2.355782766 |
| FY2019-Q4 | SP | GROSS MARGIN | 4.595415699 |
| FY2019-Q4 | SP | GROSS MARGIN | 0.840478776 |
| FY2019-Q4 | SP | GROSS MARGIN | -4.173046176 |
| FY2019-Q1 | SR | REVENUE | 10835.59399 |
| FY2019-Q1 | SR | REVENUE | 794.49843 |
| FY2019-Q1 | SR | REVENUE | 3474.85491 |
| FY2019-Q2 | SR | REVENUE | 13663.6139 |
| FY2019-Q2 | SR | REVENUE | 1189.84543 |
| FY2019-Q2 | SR | REVENUE | 3855.696346 |
| FY2019-Q3 | SR | REVENUE | 11994.67191 |
| FY2019-Q3 | SR | REVENUE | 1094.89801 |
| FY2019-Q3 | SR | REVENUE | 2991.034013 |
| FY2019-Q4 | SR | REVENUE | 9664.02951 |
| FY2019-Q4 | SR | REVENUE | 1305.99961 |
| FY2019-Q4 | SR | REVENUE | 3029.407594 |
| FY2019-Q1 | SR | COS | 9831.362866 |
| FY2019-Q1 | SR | COS | 657.3804676 |
| FY2019-Q1 | SR | COS | 3042.408553 |
| FY2019-Q2 | SR | COS | 14590.40711 |
| FY2019-Q2 | SR | COS | 541.9574429 |
| FY2019-Q2 | SR | COS | 3277.067815 |
| FY2019-Q3 | SR | COS | 11486.6565 |
| FY2019-Q3 | SR | COS | 627.6421366 |
| FY2019-Q3 | SR | COS | 3319.802977 |
| FY2019-Q4 | SR | COS | 8755.263219 |
| FY2019-Q4 | SR | COS | 634.325473 |
| FY2019-Q4 | SR | COS | 3097.971775 |
| FY2019-Q1 | SR | GROSS MARGIN | 1004.231124 |
| FY2019-Q1 | SR | GROSS MARGIN | 137.1179624 |
| FY2019-Q1 | SR | GROSS MARGIN | 432.4463568 |
| FY2019-Q2 | SR | GROSS MARGIN | -926.7932055 |
| FY2019-Q2 | SR | GROSS MARGIN | 647.8879871 |
| FY2019-Q2 | SR | GROSS MARGIN | 578.6285319 |
| FY2019-Q3 | SR | GROSS MARGIN | 508.015409 |
| FY2019-Q3 | SR | GROSS MARGIN | 467.2558734 |
| FY2019-Q3 | SR | GROSS MARGIN | -328.7689646 |
| FY2019-Q4 | SR | GROSS MARGIN | 908.7662912 |
| FY2019-Q4 | SR | GROSS MARGIN | 671.674137 |
| FY2019-Q4 | SR | GROSS MARGIN | -68.56418156 |
| FY2019-Q2 | HD | REVENUE | 8745.280744 |
| FY2019-Q1 | HD | REVENUE | 19599.22501 |
| FY2019-Q4 | HD | REVENUE | 10584.51665 |
| FY2019-Q2 | HD | REVENUE | 30830.04751 |
| FY2020-Q1 | HD | REVENUE | 34067.19005 |
| FY2019-Q3 | HD | REVENUE | 10108.20481 |
| FY2019-Q1 | HD | REVENUE | 9321.263262 |
| FY2019-Q3 | HD | REVENUE | 32271.05184 |
| FY2019-Q4 | HD | REVENUE | 31449.90529 |
| FY2020-Q1 | HD | REVENUE | 8359.115519 |
| FY2019-Q2 | HD | COS | 13254.26548 |
| FY2019-Q1 | HD | COS | 20943.87754 |
| FY2019-Q4 | HD | COS | 9699.818965 |
| FY2019-Q2 | HD | COS | 35761.85172 |
| FY2020-Q1 | HD | COS | 29197.70783 |
| FY2019-Q3 | HD | COS | 8172.647643 |
| FY2019-Q1 | HD | COS | 8360.328777 |
| FY2019-Q3 | HD | COS | 33176.22269 |
| FY2019-Q4 | HD | COS | 29850.78174 |
| FY2020-Q1 | HD | COS | 8536.219427 |
| FY2019-Q2 | HD | GROSS MARGIN | -4508.984731 |
| FY2019-Q1 | HD | GROSS MARGIN | -1344.652532 |
| FY2019-Q4 | HD | GROSS MARGIN | 884.6976812 |
| FY2019-Q2 | HD | GROSS MARGIN | -4931.804212 |
| FY2020-Q1 | HD | GROSS MARGIN | 4869.482226 |
| FY2019-Q3 | HD | GROSS MARGIN | 1935.55717 |
| FY2019-Q1 | HD | GROSS MARGIN | 960.9344842 |
| FY2019-Q3 | HD | GROSS MARGIN | -905.1708502 |
| FY2019-Q4 | HD | GROSS MARGIN | 1599.123554 |
| FY2020-Q1 | HD | GROSS MARGIN | -177.1039078 |
| FY2019-Q1 | SP | REVENUE | 36.68074774 |
| FY2019-Q1 | SP | REVENUE | 11.32294424 |
| FY2019-Q1 | SP | REVENUE | 32.04021928 |
| FY2019-Q2 | SP | REVENUE | 39.04192392 |
| FY2019-Q2 | SP | REVENUE | 12.02960563 |
| FY2019-Q2 | SP | REVENUE | 33.39814205 |
| FY2019-Q3 | SP | REVENUE | 38.77003887 |
| FY2019-Q3 | SP | REVENUE | 11.32907168 |
| FY2019-Q3 | SP | REVENUE | 31.66243372 |
| FY2019-Q4 | SP | REVENUE | 36.5718241 |
| FY2019-Q4 | SP | REVENUE | 11.81155204 |
| FY2019-Q4 | SP | REVENUE | 31.93485309 |
| FY2019-Q1 | SP | COS | 17.86646133 |
| FY2019-Q1 | SP | COS | 8.741370855 |
| FY2019-Q1 | SP | COS | 13.69218137 |
| FY2019-Q2 | SP | COS | 26.15605348 |
| FY2019-Q2 | SP | COS | 8.360099902 |
| FY2019-Q2 | SP | COS | 22.35064128 |
| FY2019-Q3 | SP | COS | 25.40373706 |
| FY2019-Q3 | SP | COS | 10.57632626 |
| FY2019-Q3 | SP | COS | 19.61088938 |
| FY2019-Q4 | SP | COS | 41.56259636 |
| FY2019-Q4 | SP | COS | 10.44339143 |
| FY2019-Q4 | SP | COS | 21.04447359 |
| FY2019-Q1 | SP | GROSS MARGIN | 18.81428641 |
| FY2019-Q1 | SP | GROSS MARGIN | 2.581573383 |
| FY2019-Q1 | SP | GROSS MARGIN | 18.34803791 |
| FY2019-Q2 | SP | GROSS MARGIN | 12.88587044 |
| FY2019-Q2 | SP | GROSS MARGIN | 3.66950573 |
| FY2019-Q2 | SP | GROSS MARGIN | 11.04750078 |
| FY2019-Q3 | SP | GROSS MARGIN | 13.36630181 |
| FY2019-Q3 | SP | GROSS MARGIN | 0.752745415 |
| FY2019-Q3 | SP | GROSS MARGIN | 12.05154435 |
| FY2019-Q4 | SP | GROSS MARGIN | -4.990772253 |
| FY2019-Q4 | SP | GROSS MARGIN | 1.368160616 |
| FY2019-Q4 | SP | GROSS MARGIN | 10.8903795 |
| FY2019-Q1 | SR | REVENUE | 64036.0175 |
| FY2019-Q1 | SR | REVENUE | 14052.27735 |
| FY2019-Q1 | SR | REVENUE | 40791.94893 |
| FY2019-Q2 | SR | REVENUE | 73144.82287 |
| FY2019-Q2 | SR | REVENUE | 14193.66268 |
| FY2019-Q2 | SR | REVENUE | 41633.7085 |
| FY2019-Q3 | SR | REVENUE | 72481.77283 |
| FY2019-Q3 | SR | REVENUE | 15077.65191 |
| FY2019-Q3 | SR | REVENUE | 42978.97382 |
| FY2019-Q4 | SR | REVENUE | 74506.62894 |
| FY2019-Q4 | SR | REVENUE | 15696.17554 |
| FY2019-Q4 | SR | REVENUE | 41728.46084 |
| FY2019-Q1 | SR | COS | 54502.50179 |
| FY2019-Q1 | SR | COS | 11093.0108 |
| FY2019-Q1 | SR | COS | 39841.81835 |
| FY2019-Q2 | SR | COS | 55330.60921 |
| FY2019-Q2 | SR | COS | 12445.63617 |
| FY2019-Q2 | SR | COS | 40732.17136 |
| FY2019-Q3 | SR | COS | 58232.25356 |
| FY2019-Q3 | SR | COS | 11954.0253 |
| FY2019-Q3 | SR | COS | 39127.40374 |
| FY2019-Q4 | SR | COS | 59312.32481 |
| FY2019-Q4 | SR | COS | 12412.0084 |
| FY2019-Q4 | SR | COS | 40770.9859 |
| FY2019-Q1 | SR | GROSS MARGIN | 9533.515711 |
| FY2019-Q1 | SR | GROSS MARGIN | 2959.266548 |
| FY2019-Q1 | SR | GROSS MARGIN | 950.1305832 |
| FY2019-Q2 | SR | GROSS MARGIN | 17814.21366 |
| FY2019-Q2 | SR | GROSS MARGIN | 1748.026513 |
| FY2019-Q2 | SR | GROSS MARGIN | 901.5371481 |
| FY2019-Q3 | SR | GROSS MARGIN | 14249.51927 |
| FY2019-Q3 | SR | GROSS MARGIN | 3123.626607 |
| FY2019-Q3 | SR | GROSS MARGIN | 3851.570075 |
| FY2019-Q4 | SR | GROSS MARGIN | 15194.30413 |
| FY2019-Q4 | SR | GROSS MARGIN | 3284.167143 |
| FY2019-Q4 | SR | GROSS MARGIN | 957.4749316 |