I am using the report you have shown Sam for Multi Threaded Dynamic Visuals in Power BI - Advanced Power BI and DAX Techniques, but seem anything < 90 days is not showing up for me.
please advise.
I have my Dates Table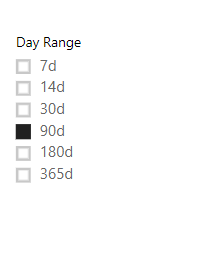 Day Ranges

Total Revenue Function. I have written exact same as yours, as it is not working.If I select 14 days it is not showing anything - see further.

14 Days ??

180 Days seems fine

Thanks