Hi,
is there any way i can project my MTD, YTD to show total as sum of MTD, sum of YTD instead showing as last month in that year value.
example: for 2018 data, the MTD is showing 2018/dec value as in total, same as for YTD it is showing dec/2018 value.
Have attached my file, we have budget and fact table on monthly basis.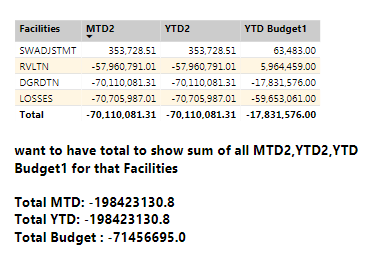 the client requirement is to show sum of all MTD,YTD in total for all the facility codes.CMC_Model.pbix (1.8 MB)