Hello,
I'm trying to return the inventory from the minimum day on this table visual.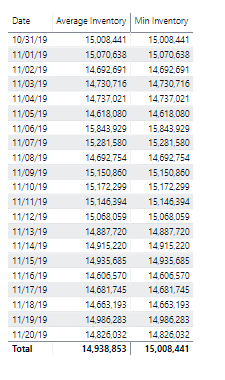 Ultimately, I would like to calculate the rolling change in inventory from the minimum filtered date. So, the final cumulative total would be - 182,409.
I can't understand why this formula isn't working to give me the minimum…
Min Inventory =
CALCULATE(
SUM( Inventory[Inventory Quantity] ),
FILTER( ALLSELECTED( 'Date' ), 'Date'[Date] = MIN( 'Date'[Date] ) )
)
Thank you in advance for all of your help!