Enterprise DNA Members,
Continuing to fulfill our promise to provide you one brand-new, in-depth course each month for the rest of the year , we are very pleased to bring you this month's course entitled "Mastering Report Development Start to Finish", developed and taught by Enterprise DNA Expert Jarrett Moore. In this course, Jarrett uses Enterprise DNA Data Challenge #10 as the backdrop for showing you step-by-step how he develops a top-notch report, from the moment he receives the initial brief to the completion of the report. (Sam and I had a very enjoyable discussion with Jarrett about his development of this course that you can find here.
Who is this course intended for?
While everyone can learn something from this course (I've been through it front to back twice and picked up some valuable tips and techniques each time), it is primarily intended for the member who has been through some of the initial Enterprise DNA coursework but is still unsure how to "put all the pieces together" in order to develop a well-structured data model that provides a strong foundation for insightful analyses, attractive visuals and a smooth user experience. The processes and techniques that Jarrett teaches are the very same ones he uses in his highly successful career as a Power BI Developer.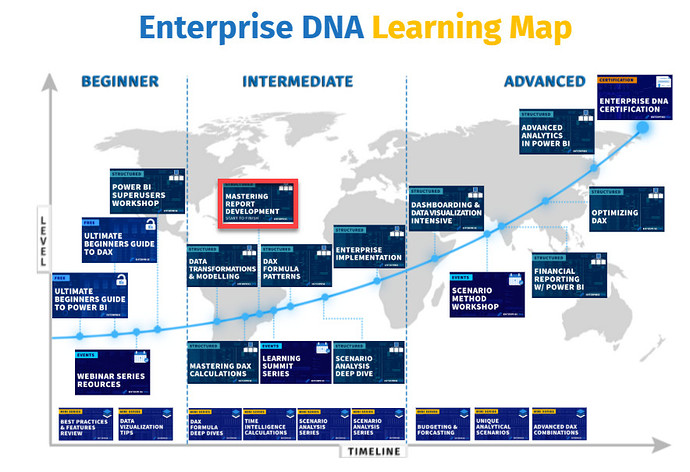 A word about the Data Challenges
We would truly love to see every member participate in the Challenges, since we believe they are the absolute best and fastest way to improve your Power BI skills (in addition to being a hell of a lot of fun). However, when we talk to people about why they don't participate, we regularly hear variations of these two responses: "I don't know where to start" or "I am intimidated by the quality of the entries others submit". With regard to the first point, this course provides you a detailed and highly replicable roadmap for organizing your information and building your report in an easy to follow, highly linear manner.
If the second point resonates with you and is part of the reason you have not been participating, Jarrett is the perfect guide for you. As a past Challenge winner and regular top-tier finisher, he consistently produces outstanding reports. Yet unlike many of the other top competitors, he does so almost entirely using "out-of-the-box Power BI" – no professional graphic design tools, no Python, R nor advanced geospatial techniques, and very few custom visuals. He just gets the most out of the native Power BI functionality, coming to the competition with the exact same tools that you all are already familiar with. (But for those of you who want to equip yourself with those advanced capabilities, not to worry – those courses are coming in future months this year…).
Like all the courses we've put together this year, this one is directly the result of your feedback. We heard repeatedly that while the write ups that Challenge entrants provide are very helpful, many of you were looking for more in-depth explanations of how these great reports get created. This course is just one way we are seeking to address that request. In addition, we are running regular "Mastermind" events for members, where Sam interviews past winners about their entries, and you get to ask questions live about the techniques and approaches they used. Finally, we are dedicating some of our YouTube content to delving into interesting aspects of various Challenge entries.
We think you'll really benefit from and enjoy this course, and are very appreciative to Jarrett for the extensive time and energy he put into it. As always, your feedback is welcomed.
Thanks.
• Brian