Hi,
I'm working with a tabular model report and I need to create a DAX calculation which finds the last date value of miles for individual vehicles in the month, and then sums them together according to their fleet type. Dummy Data is in PBIX at bottom of my post.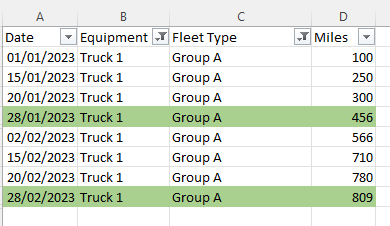 So, as above, Truck 1 in Fleet Type Group A has completed 456 miles by the end of January and it will have completed 809 miles by the end of February.
So I need to sum up the Total Miles for each fleet type at the end of each month. So as per below, I need to sum the last value of the month for Truck 1 & Truck 2 that are of Fleet Type Group A. So total fleet miles for Group A would be the last value in the month for Truck 1 & Truck 2 (Truck 1 456 MIles + Truck 2 210 MIles. 456 + 210 gives me Group A Total Miles for the month of 666 miles). As this is test data, I will have several dozen vehicles in each fleet type so a calculation for individual trucks won't work, it needs to be done at a Fleet Level.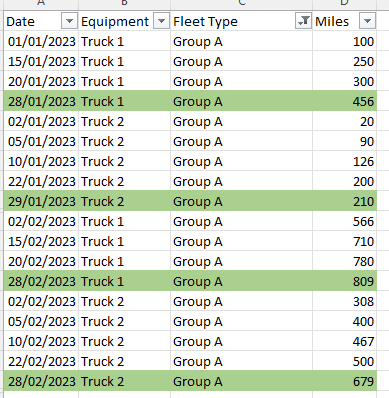 Hopefully I've made sense, which would be pretty good considering it is 10:30am on a Monday morning
End of Month Miles.pbix (80.4 KB)