Hello All,
For example, I have this simple example table that shows the Project, Team ID, Employee #, and Hours Worked.
(please refer to attached excel file and screenshot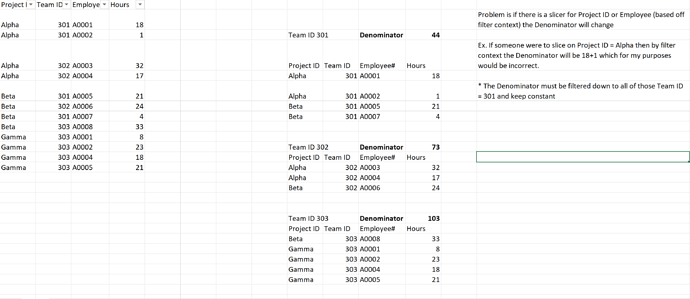 I need to create a DAX measure that will calculate the percentage but the denominator must stay constant based on the Team ID. So the measure would look at the table, then filter down to Team ID = 301 and SUM up all the hours. Problem is for me, if there are other slicers and columns added to the table, the by filter context the denominator changes.
Please advise, how can i get my denominator to stay constant based on the selected Team ID and the sum of all those hours.
Hopefully this posts makes sense, please let me know if you need me to clarify anything. Thanks for all your help
Thanks.