HI,
I`m trying to figure out how i can project forwards the work completed in one area of my business to the next areas planned work load for the following week.
See attached screen shot and PBIX i have 7 areas in my business that process parts one after another week to week. Each area is shown with a sequence number.
As an example ill use number 1 process CCA.
In week 36 the CCA actual was 254 parts the following week, week 37 i want those 254 parts to be the plan for sequence 2 Autoclave and then in week 38 whatever the Autoclave finishes should be the plan for CNC area sequence 3.
This trend should continue for all areas that what ever is finished should be the plan for the next sequenced area the following week.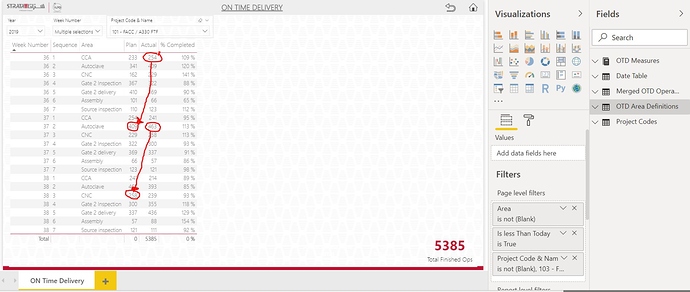 OTD Test Power Bi Planning.pbix (973.4 KB)
Appreciate your help
Dan