Hello PBI lovers,
actually a quite simple thing you should think, but somehow I'm standing in the forest and can no longer see the trees. Can you help?
I have a fact table and two dimension tables which are based on the first one.
dim_company and dim_ICPartnerCompany.
All filters work fine as far as they can be seen in the two tables above.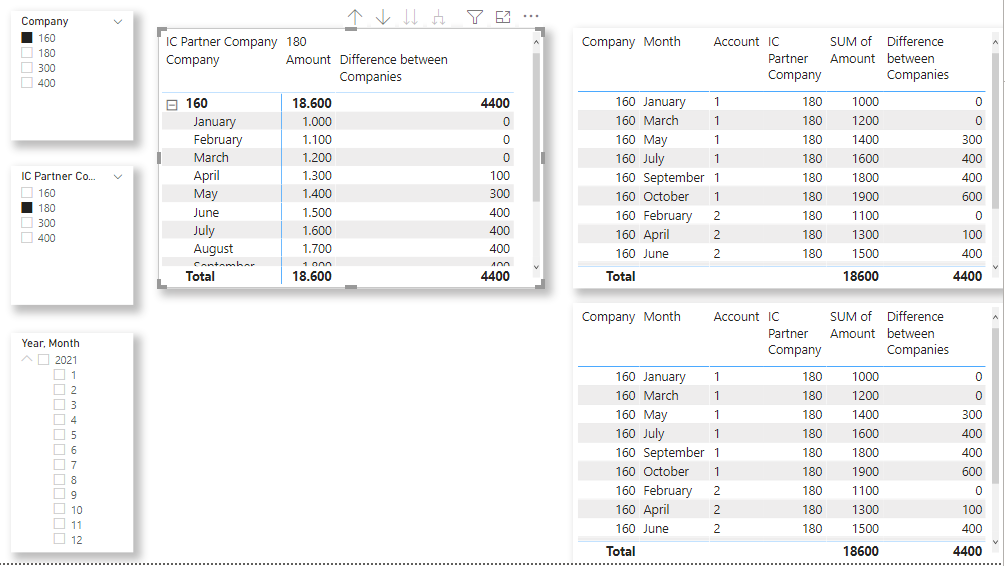 In the table below I want to show the opposite result without using additional slicers.
That means, if I choose Company = 160 and IC PartnerCompany = 180, all results for this selection should show up in the above table. → Done
In the table below, the cloumn company should be filtered by 180, and the IC PartnerCompany by 160.
Unfortunately, all my attempts so far come up empty and give errors or don't work properly : vice versa = FILTER(VALUES(FactTable[Company]), SELECTEDVALUE(dim_ICPartnerCompany[IC Partner Company]))
Can you help? Find the PBIX file in the appendix.
Thanks in advance.
Danilo
Test_IC_Calculation.pbix (58.0 KB)