Welcome to Excel Workout #8!
Difficulty Level:


This week's challenge is designed to test your knowledge on Solver What-If Analysis Add-In.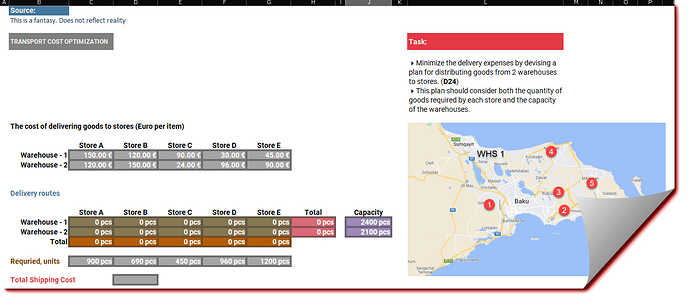 Solver
Solver is a What-If Analysis tool in Microsoft Excel that helps you find the optimal solution for a specific problem by changing multiple variables in a spreadsheet. It is used when you have a complex problem with multiple variables and constraints and want to find the best possible solution. Solver is a tool that uses mathematical algorithms to analyze data and generate solutions based on certain criteria or constraints.
Goals
Please follow the directions given below, which include downloading the Excel worksheet required to perform the challenge tasks. Once you have completed the download, proceed to take the challenge and test your skills.
Task
Minimize the delivery expenses by devising a plan for distributing goods from 2 warehouses to stores (D24).
This plan should consider both the quantity of goods required by each store and the capacity of the warehouses.
Submission
Reply to this post with your formula code and solution file. Please be sure to blur or hide your formula code.

Period
This workout will be released on Thursday April 20, 2023 , and the author's solution will be posted on Wednesday April 26, 2023 .
Challenge #8.xlsx (8.5 MB)
Good luck,
Ilgar Zarbaliyev