Welcome to Excel Workout #4!
Difficulty Level:

This week's challenge is designed to test your knowledge on Index & Match Functions.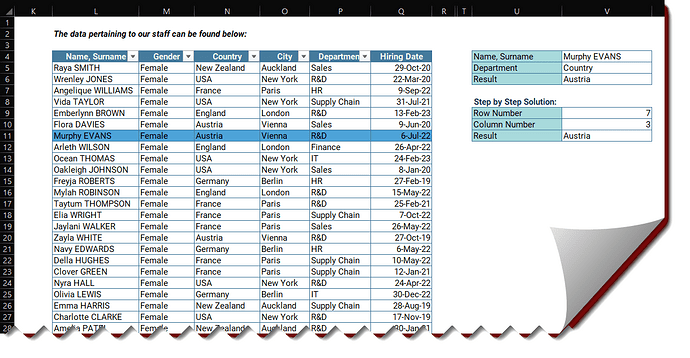 Index Function
INDEX is a function in Excel that is used to retrieve a value or a reference to a cell from a specific row and column within a range of cells or an array.
Match Function
MATCH is a function in Excel that is used to search for a value in a range of cells and return its position or index number within that range.
Goals
Please follow the directions given below, which include downloading the Excel worksheet required to perform the challenge tasks. Once you have completed the download, proceed to take the challenge and test your skills.
Task
Write a formula in cell V6 to find the Result based on the initial data specified in cells V4 and V5.

Write a formula in cell V10 to find the Row Number for the specified Name, Surname (cell V4)

Write a formula in cell V11 to find the Column Number for the specified
Department (cell V5)

Write a formula in cell V12 to find the result for the specified Row
Number (cell V4) and Column Number (cell V5).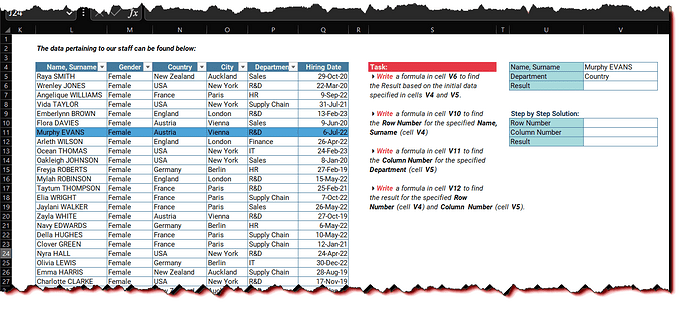 Submission
Reply to this post with your formula code and solution file. Please be sure to blur or hide your formula code.
Period
This workout will be released on Monday April 06, 2023, and the author's solution will be posted on Sunday April 11, 2023.
Ilgar Zarbaliyev
Challenge #4.xlsx (8.3 MB)