Welcome to Excel Workout #21!
Difficulty Level:



This week's challenge is designed to test your knowledge on Index Function.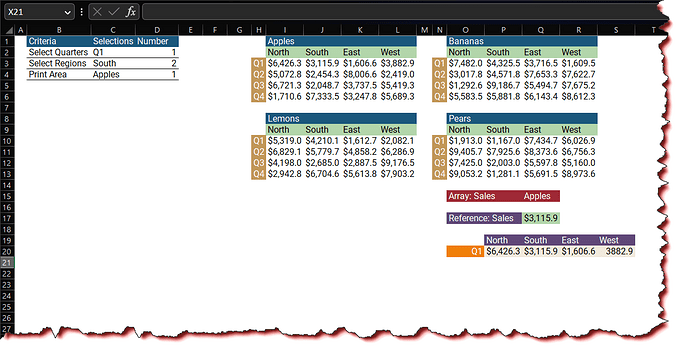 INDEX Function
The INDEX function in Excel is a built-in function that allows you to retrieve the value from a specified position within a range or array.
Task
We possess a dataset that includes four print areas: Apples, Bananas, Lemons, and Pears. In cell C2, we can choose quarters; in cell C3, regions; and in cell C4, print areas. The Switch function converts the selected data in column C into numerical values in respective cells in D Column.
Cell Q17 should display the required information according to the selected details in cells C2, C3, and C4.

Simultaneously, display the data in Cells P20:S20 for all regions based on the selections made in cells C2 and C4.
Submission
Reply to this post with your formula code and solution file. Please be sure to blur or hide your formula code.
Period
This workout will be released on Monday June 05, 2023 , and the author's solution will be posted on Sunday June 11, 2023.
Challenge #21.xlsx (8.3 MB)
Good luck,
Ilgar Zarbaliyev